(Image via Twitter)
Donald Trump has officially secured the 270 electoral votes needed to become the 45th President of the United States.
Members of the Electoral College voted at their respective state capitols on Dec. 19 to confirm Trump's win in the presidential election. 
Out of the 306 electors that pledged to vote for the President-elect, 304 voted for Trump and two voted for someone different -- one for former Texas Rep. Ron Paul (R) and the other for Ohio Gov. John Kasich (R). 
Of the 232 electors who pledged to vote for Clinton, 227 voted for her and five voted for someone else -- three for former New York Sen. Colin Powell (R), one for Vermont Sen. Bernie Sanders (I), and one for Faith Spotted Eagle, the chairwoman of the Yankton Sioux Tribe's treaty council, known for her efforts to block construction of the Keystone XL Pipeline.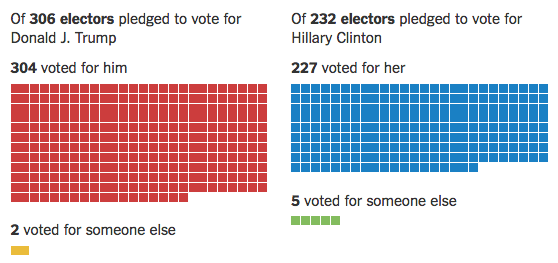 The 2016 Democratic presidential candidate lost by a larger margin on Monday than on Election Day -- 77 and 74 electors, respectively.
Now that the Electoral College has spoken, a joint session of Congress is scheduled for Jan. 6 to certify the results.
If all goes according to plan, Trump will be sworn in at the Presidential Inauguration on Jan. 20.
Leading up to the vote, many on the Left attempted to upend his victory by urging Republican electors to vote for anyone but the President-elect.  
On Election Day, Trump won the Electoral College unequivocally with 306 votes to Hillary Clinton's 232.
(Updated Tues., 8:20 P.M. EST)