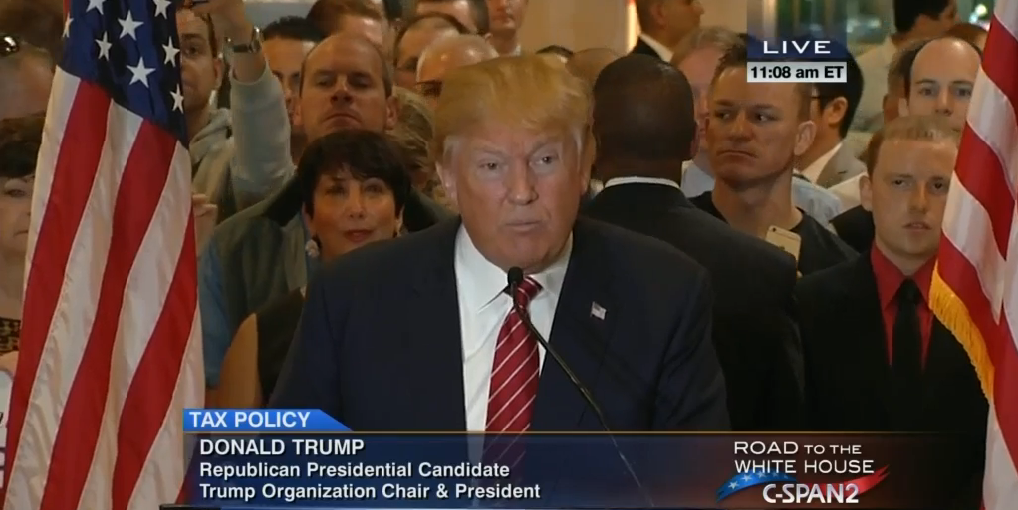 Republican presidential candidate Donald Trump held a press conference in New York City on Monday to unveil his big plan for tax reform. 
He promised "a major tax reduction" for most Americans, a simpler tax code, and economic growth "at a level that [America] hasn't seen for decades":
"It will provide major tax relief for middle-income and for most other Americans. There will be a major tax reduction. It will simplify the tax code. It will grow the American economy at a level that it hasn't seen for decades. And all of this does not add to our debt or deficit." 
Trump's plan provides lower tax rates across the board and condenses the current tax code from seven brackets to four. 
According to his plan, individuals who earn less than $25,000 a year and married couples who jointly earn less than $50,000 a year do not have to pay a federal income tax, thereby putting an end to the marriage penalty.
Other significant features include an end to the death tax and "the elimination of deductions and loopholes for special interests" and "the very rich."
"In other words, it's going to cost me a fortune," said Trump. 
The real estate mogul claims that America will witness economic growth ranging from three to six percent per year as a result of his plan. 
"This is my wheelhouse," Trump said. "The economy is what I do well."
To listen to his remarks, check out the video below.