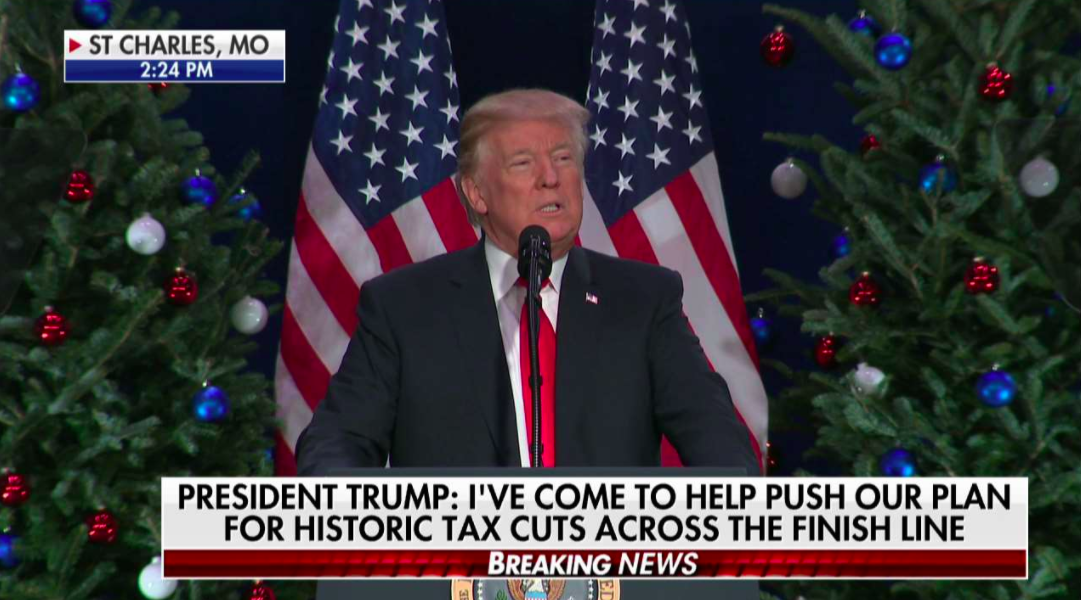 President Trump delivered a speech in St. Charles, Missouri, on Wednesday in a final push for the Republican tax plan.
Trump said that he expects the GOP tax bill to pass in the Senate this week, promising to give Americans major tax cuts by Christmas Day.
"The eyes of the world now turn to the United States Senate," said Trump. "A successful vote in the Senate this week will bring us one giant step closer to delivering an incredible victory for the American people."
The Senate Budget Committee on Tuesday advanced the bill, sending it to the Senate floor.
Trump said that Americans and the media should not call it tax reform, but "tax cuts and reform."
"Don't call it tax reform. Call it tax cuts and reform," he said. "Now we have a once-in-a-lifetime opportunity to restore American prosperity and reclaim America's great destiny. We've already made tremendous progress."
He went on to say "in a non-bragadacious way" that his presidency has been a huge accomplishment thus far.
"I will tell you this in a non-bragadacious way: There has never been a 10-month president that has accomplished what we have accomplished. That I can tell you," said Trump, drawing applause.
He touted the stock market reaching another record all-time high, low unemployment rates, and job creation under his administration.
Trump went on to call himself "the opposite of an exaggerator."
Coming back to the tax plan, the President said, "If we do this, then America will win again like never, ever before."
"In order to achieve this bright and glowing future, the Senate must pass those tax cuts," he said.
Trump said the tax plan would bring the "biggest tax cut in history, bigger than Reagan." 
Check out a clip from his remarks below. 
Thank you for supporting MRTV! As a tax-deductible, charitable organization, we rely on the support of our readers to keep us running! Keep MRCTV going with your gift here!