President Trump on Thursday tweeted his appreciation to San Diego County for joining his administration's lawsuit against California's so-called sanctuary state law.
"Thank you San Diego County for defending the rule of law and supporting our lawsuit against California's illegal and unconstitutional 'Sanctuary' policies," he wrote. "California's dangerous policies release violent criminals back into our communities, putting all Americans at risk."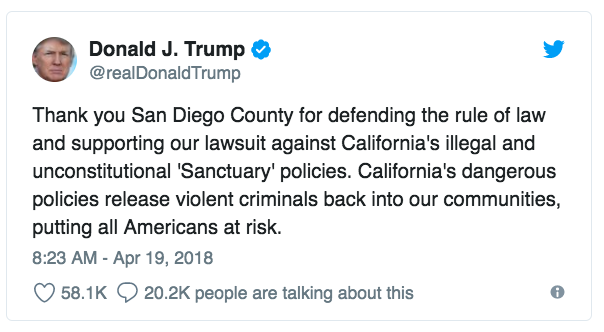 San Diego County voted 3-1 in favor of singing onto the federal lawsuit against California on Tuesday, joining a growing list of cities and counties throwing their support behind the Trump administration – including Los Alamitos, Orange County, Huntington Beach, Escondido, and Aliso Viejo.
Some cities have even gone so far as to pass ordinances exempting them from the state's sanctuary policies. 
San Diego County is California's second-largest county.
The county's leaders plan to file an amicus brief soon, Fox News reports.