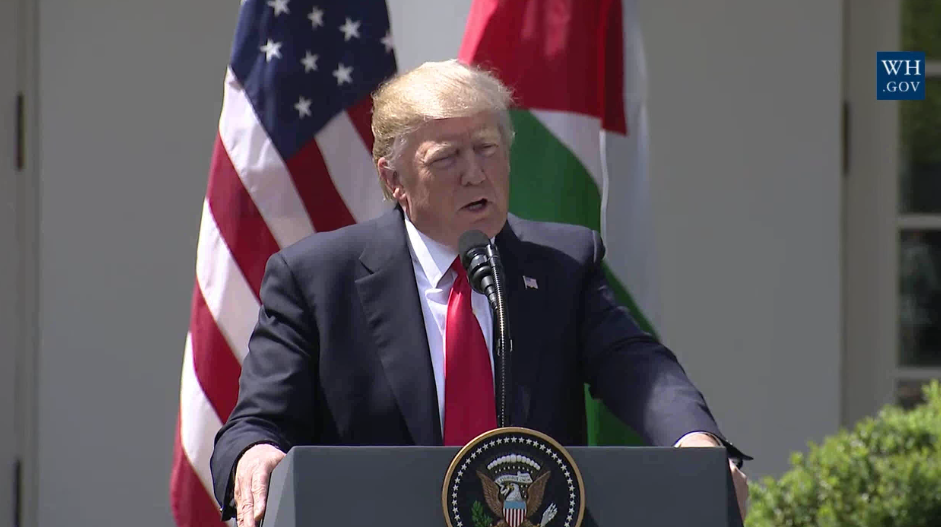 In response to the recent chemical attack in Syria that reportedly killed at least 70 people, including innocent women and children, President Trump denounced Syria for having "crossed a lot of lines" and said his attitude towards the nation and its president Bashar Assad has "changed very much."
During a joint press conference with King Abdullah II of Jordan, Trump was asked if the chemical attack crossed a red line for him.
"It crossed a lot of lines for me," Trump responded. "When you kill innocent children, innocent babies, babies—little babies—with a chemical gas that is so lethal people were shocked to hear what gas it was, that crosses many, many lines, beyond the red line, many, many lines."
Later during the press conference, the President was asked how he'd distinguish his policies from the Obama administration:
"I like to think of myself as a very flexible person," Trump began. "I don't have to have one specific way, and if the world changes, I go the same way. I don't change. Well, I do change. And I am flexible. And I'm proud of that flexibility. And I will tell you, that attack on children yesterday had a big impact on me. Big impact. That was a horrible, horrible thing and I've been watching it and seeing it and it doesn't get any worse than that. And I have that flexibility and it's very, very possible—and I will tell you it's already happened—that my attitude towards Syria and Assad has changed very much."
"And if you look back of the past few weeks, there were other attacks using gas," he continued. "You're now talking about a whole different level. So, as you know, I would love to have never been in the Middle East. I would have loved to have never seen that whole big situation start. But once it started, we got out the wrong way. And ISIS formed in the vacuum and lots of bad things happened.  I will tell you what happened yesterday is unacceptable to me."
Trump was then asked if he is open to the possibility of taking military action against Syria.
He responded, "I'm not saying I'm doing anything one way or another, but I'm certainly not going to be telling you, as much as I respect you."
Check out his remarks in the short video clip below. 
Thank you for supporting MRCTV! As a tax-deductible, charitable organization, we rely on the support of our readers to keep us running! Keep MRCTV going with your gift here!