UPDATE 12:15 A.M. EST: 
And the pettiness continues.
House Speaker Nancy Pelosi replied to President Trump's tweet late Wednesday night, saying, "Mr. President, I hope by saying 'near future' you mean you will support the House-passed package to #EndTheShutdown that the Senate will vote on tomorrow."
"Please accept this proposal so we can re-open government, repay our federal workers and then negotiate our differences," she wrote.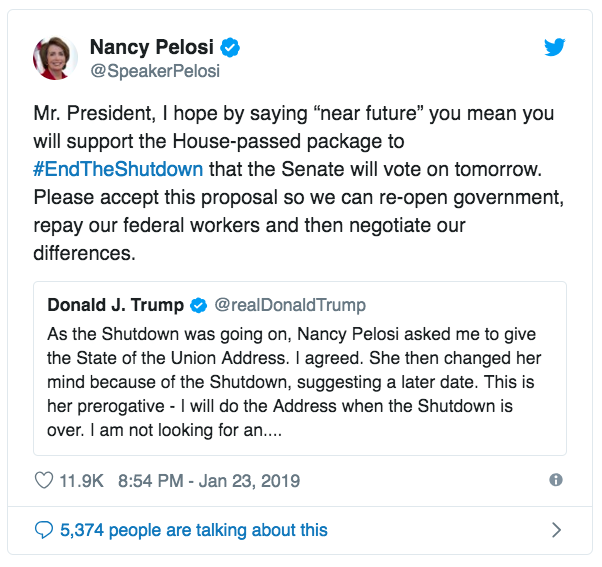 The Democrats' bill will temporarily fund the rest of the government through Feb. 8 and will not include funding for President Trump's border wall despite several compromises by the President.
Original Story: 
President Trump in a late night tweet Wednesday responded to House Speaker Nancy Pelosi postponing the State of the Union address until a "mutually agreeable date," saying, "This is her prerogative."
He said that Pelosi asked him to deliver the SOTU while the government shutdown was already taking place and that she "then changed her mind," adding that he will "do the Address when the Shutdown is over."
"As the Shutdown was going on, Nancy Pelosi asked me to give the State of the Union Address. I agreed. She then changed her mind because of the Shutdown, suggesting a later date. This is her prerogative - I will do the Address when the Shutdown is over," Trump tweeted.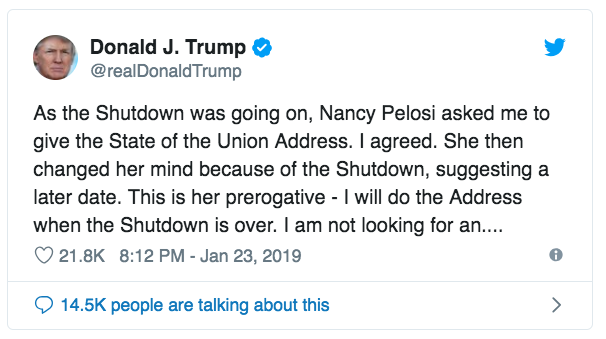 He added in a later tweet addressing rumors that he was considering a different venue for the speech that he is "not looking for an alternative venue … because there is no venue that can compete with the history, tradition and importance of the House Chamber."
"I look forward to giving a 'great' State of the Union Address in the near future!" Trump wrote.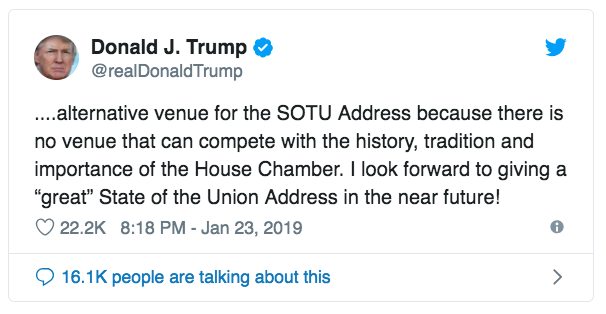 The Senate is expected to vote on two competing bills to end the government shutdown on Thursday, which marks its 34th day.
The Republican bill includes $5.7 billion in funding for President Trump's border wall meanwhile the Democratic bill does not but would fund the remaining government agencies through Feb. 8.
Democrats are reportedly drafting a letter regarding a proposal for $5 billion in border security on the condition that Trump agrees to reopen the government. Using the funding for a wall or any "structures" along the U.S.-Mexico border is out of the question, however.
(Cover Photo: Flickr - Gage Skidmore)