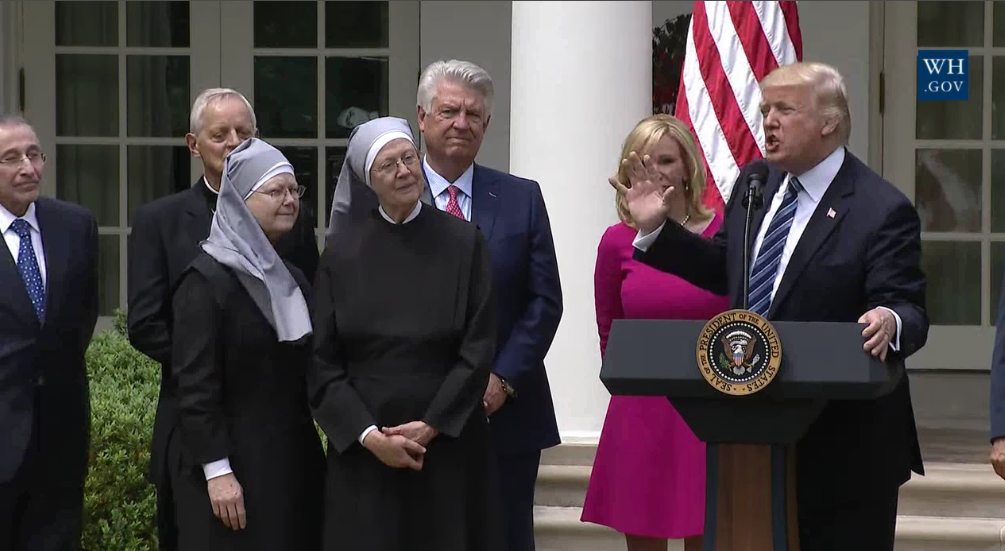 On the National Day of Prayer on Thursday, President Trump signed an executive order dedicated to preserving religious liberty and freedom of speech for religious institutions.
"Our Founding Fathers believed that religious liberty was so fundamental, that they enshrined it in the very first amendment of our great and believed constitution," said Trump. "Yet for two long, the federal government has used the power of the state as a weapon against people of faith, bullying and even punishing Americans for following their religious beliefs."
"It's been happening," he continued. "That is why I am signing, today, an executive order to defend the freedom of religion and speech in America, the freedoms that we've wanted, the freedoms that you've fought for so long, and we are doing in just a little while, right over here."
"No American should be forced to choose between the dictates of the federal government and the tenets of their faith," Trump said. "As I campaigned across the country, faith leaders explained that they were prevented from speaking their minds because of a 1954 rule, known as the Johnson Amendment. I spoke about it a lot. Under this rule, if a pastor, priest, or imam speaks about issues of public or political importance, they are threatened with the loss of their tax-exempt status, a crippling financial punishment. Very, very unfair. But no longer."
"No one should be censoring sermons or targeting pastors," said the President.
Trump claimed the executive action, the Executive Order on Promoting Free Speech and Religious Liberty, would instruct the IRS not to target religious organizations for political speech.
Throughout his speech, Trump emphasized the point that religious freedom is "protected for everyone" and that America was built on religious tolerance.
Thank you for supporting MRCTV! As a tax-deductible, charitable organization, we rely on the support of our readers to keep us running! Keep MRCTV going with your gift here!