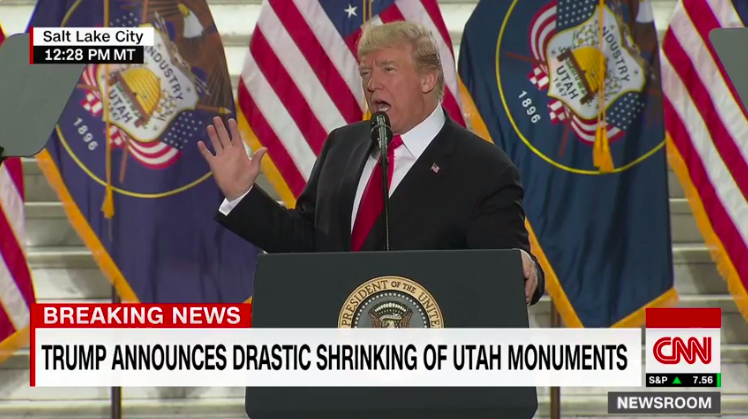 President Trump on Monday signed two executive orders removing some 2 million acres from Utah's Bears Ears and Grand Staircase-Escalante national monuments.
He defended the action during a speech at the state's capitol building in Salt Lake City, Utah, calling the billions of acres of land across the country designated as protected land under the Antiquities Act a "tragic federal overreach."
"Some people think that the natural resources of Utah should be controlled by a small handful of very distant bureaucrats located in Washington. And guess what? They're wrong," said Trump.
"The families and communities of Utah know and love this land the best, and you know the best how to take care of your land. You know how to protect it and you know best how to conserve this land for many, many generations to come," he said.
The President went on to say that the land will now be protected by the public rather than be subject to "the whims of regulators thousands of miles away."
"I've come to Utah to reverse federal overreach and restore the rights of this land to your citizens," he said. "Our precious national treasures should be protected and from now on, they will be protected."
"We will not only give back your voice over the use of this land, we will also restore your access and your use of this land," he continued. "Public lands will once again be for public use."
"Because we know that people who are free to use and enjoy their land are the people most determined to conserve their land… No one values the splendor of Utah than you do and no one knows better how to use it than you do," said Trump.
This will not be the last time President Trump moves to shrink national monuments as a part of his promise to remove unnecessary regulations by the federal government.  
Trump in April ordered the Interior Department to review the size and scope of national monuments larger than 100,000 acres created since 1996. The Department, as in the case of Utah, will give Trump recommendations whether the national monuments should be scaled back. 
Check out a clip from his remarks below. 
Thank you for supporting MRTV! As a tax-deductible, charitable organization, we rely on the support of our readers to keep us running! Keep MRCTV going with your gift here!