President Trump in a tweet Wednesday morning declared ISIS "defeated" in Syria.
"We have defeated ISIS in Syria, my only reason for being there during the Trump presidency," he wrote.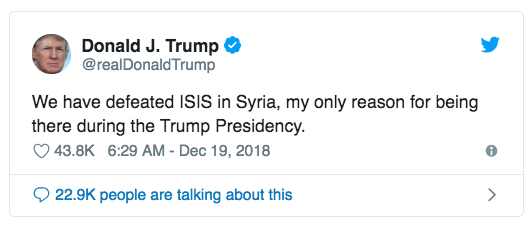 His tweet followed multiple reports that Trump plans to announce that the U.S. will withdraw troops from Syria on Wednesday.
Apparently troops are already on their way back home.
According to The Hill, "The White House confirmed in a statement that the administration has 'started returning United States troops home' but emphasized that coalition efforts in Syria would continue. It also reiterated Trump's claim that 'the United States has defeated the territorial caliphate.'"
Pentagon spokesman Col. Rob Manning, when asked to respond to the news, did not declare ISIS defeated but said, "[A]t this time, we continue to work by, with and through our partners in the region."
The looming announcement has already drawn criticism, including a stern warning from Republican South Carolina Sen. Lindsey Graham who tweeted that withdrawing the "small American force" of 2,000 troops in Syria would be a "Obama-like mistake."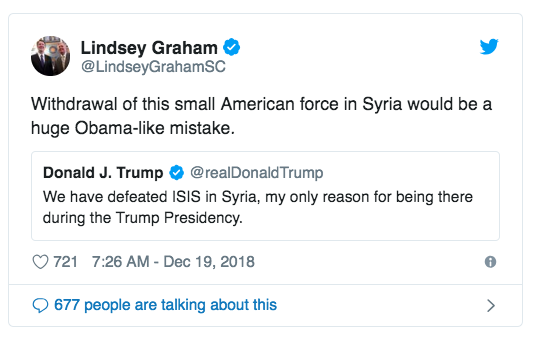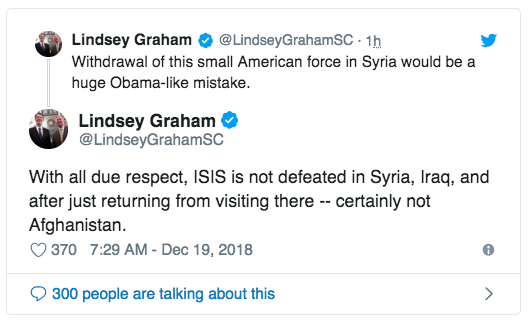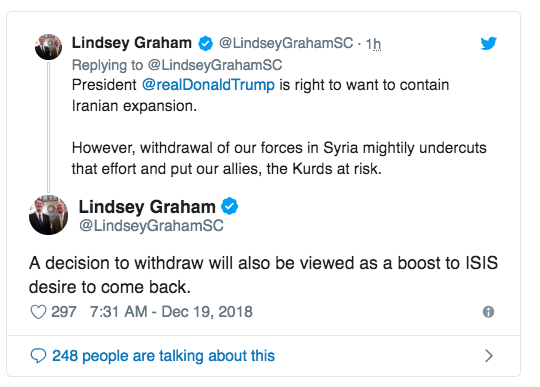 It has also been reported that all U.S. State Department personnel will be evacuated from Syria within 24 hours, to which Sen. Graham replied, "If in fact we are withdrawing our military forces from northeastern Syria, it is imperative we remove all American diplomats and aide workers ASAP."
This story is developing. Stay tuned to MRCTV for updates.