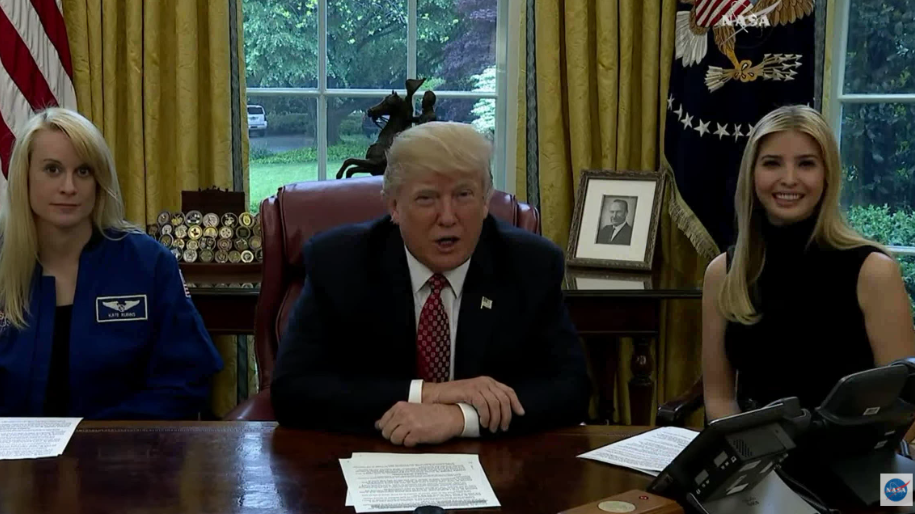 Just days after protesters at the March for Science held signs alleging President Trump doesn't support or believe in science, Trump spoke with NASA astronauts about sending humans to Mars during his first term in office.
During an event congratulating astronaut Peggy Whitson for her record-breaking stay on the International Space Station on Monday, Trump mentioned his plan to send humans to space by the 2030s. The bill Trump signed also authorizes $19.5 billion in funding for NASA.
"Tell me, Mars. When do you see a timing for actually sending humans to Mars? Is there a schedule and when would you see that happening?" Trump asked.
"Well, I think as your bill directed, it will be approximately in the 2030s," Whitson responded. "As I mentioned, we actually are building hardware to test the new heavy launch vehicle. And this vehicle will take us farther than we have ever been away from this planet. So, unfortunately, space flight takes a lot of time and money so getting there will require some international cooperation to get it to be a planet-wide approach in order to make it successful just because it is a very successful endeavor, but it is so worthwhile doing."
"Well, we want to try to do it during my first term, or at worst during my second term, so we're going to have to speed that up a bit, okay?" Trump joked.
"We'll do our best," Whitson responded.
"You will, and I have great respect for you folks, it's amazing what you do," Trump said.
Later on during his discussion, Trump referenced Mars again, asking, "So which one of you is ready to go to Mars? Are you ready?"
During his talk with the astronauts, Trump also added he has more respect for scientists than politicians.
 Thank you for supporting MRCTV! As a tax-deductible, charitable organization, we rely on the support of our readers to keep us running! Keep MRCTV going with your gift here!