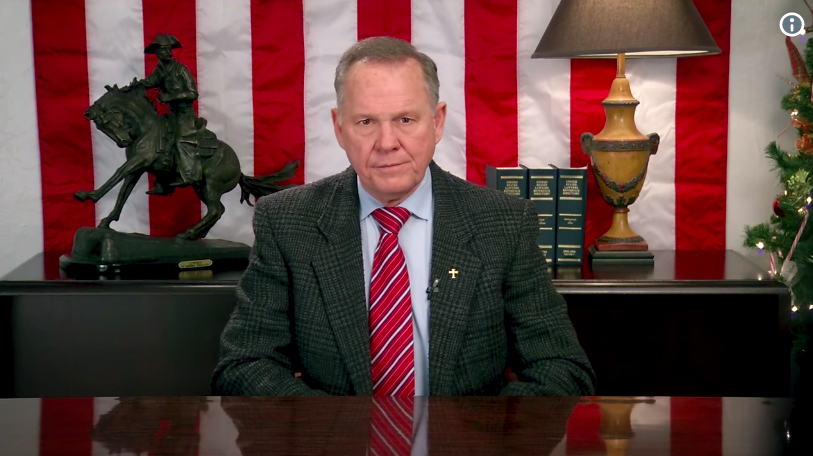 Image via Screenshot
President Trump told reporters on Friday that he believes Republican candidate Roy Moore should concede after losing Tuesday's special election in Alabama to Democratic candidate Doug Jones.
"I think he should [concede]," Trump said at the White House before his departure to deliver remarks at the FBI National Academy in Quantico, Va.
"He tried," he continued. "I always want to support the person running. We need the seat. We'd like to have the seat.. But as far as Roy Moore, yeah, I would certainly say he should."
Moore, who has been accused by several women of sexual misconduct, refused to concede on election night, saying that he would wait for every last vote to be counted.
He hoped to come within half a percentage point of Jones which would trigger an automatic recount of the vote.
Jones finished more than 20,700 votes ahead of Moore with a margin of 1.5 percentage points.
Moore issued a campaign statement a day after the election, saying that he is still waiting for the official vote count from Alabama Secretary of State John Merrill, who has said that it is "very unlikely" Jones would not be certified as the winner, The Washington Post reports.
In his statement, Moore says that he is going to continue to fight "for the future of our country" as "immorality sweeps over our land."
He again denies the sexual misconduct allegations against him as "baseless and false," merely a product of a corrupt political process, he said.
Many Republicans were relieved that Moore lost the election.
Trump disagreed with Republicans who said they were happy Jones won because he wishes the GOP would have gotten the Senate seat, but said that he knew Moore would not be able to win.
Thank you for supporting MRTV! As a tax-deductible, charitable organization, we rely on the support of our readers to keep us running! Keep MRCTV going with your gift here!