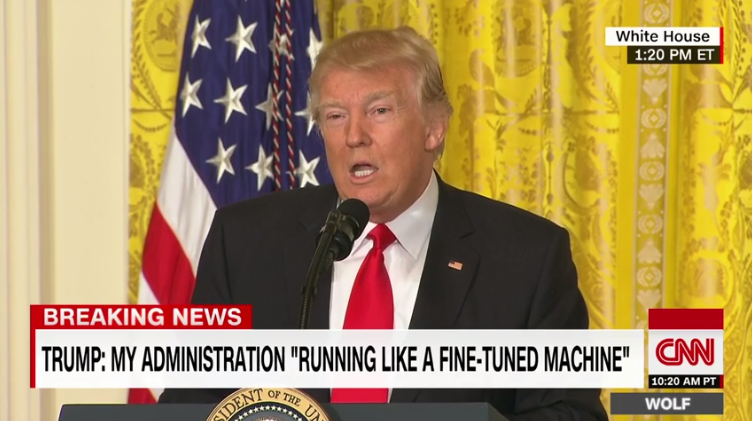 (Image via Screenshot)
President Donald Trump in a press conference at the White House on Thursday discussed his concern about the leaks taking place from within his administration.
Trump asked Gen. Michael Flynn to resign as his national security adviser on Monday after reports that Flynn discussed U.S. sanctions against Russia with the Russian ambassador to the U.S. and gave an "incomplete information" about the conversation to members of the Trump administration, including Vice President Mike Pence.
Trump on Wednesday defended Flynn as a "wonderful man" who was "very, very mistreated" by the "fake media," arguing that the real issue at hand is how classified information is being leaked by government officials.
He doubled down during the White House press conference on Thursday, saying that reports of his advisers communicating with Russians during his campaigns and after he was sworn in as president are "fake news."
"What [Flynn] did wasn't wrong," said Trump. "What was wrong was the way that other people including yourselves in this room were given that information, 'cause that was classified information given illegally. That's the real problem."
"You can talk all you want about Russia, which is all fake news, fabricated deal to try to make up for the loss of the Democrats," he went on. "And the press plays right into it."
When asked whether the leaks are real or fake news, he replied, "The leaks are absolutely real. The news is fake."
The President told reporters that his administration is currently looking into the "criminal leaks."  
Thank you for supporting MRCTV! As a tax-deductible, charitable organization, we rely on the support of our readers to keep us running! Keep MRCTV going with your gift here!