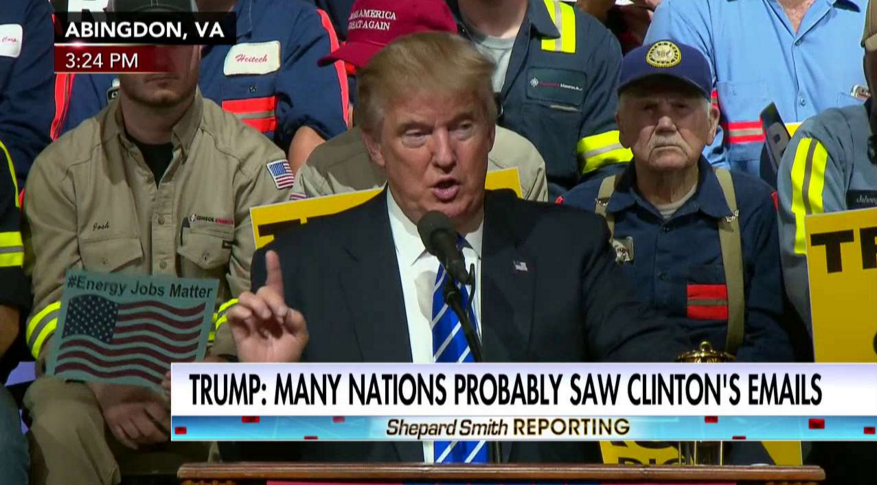 (Image via Twitter)
On Wednesday, Donald Trump responded to the ongoing media frenzy over his Second Amendment remarks at a Tuesday rally in Wilmington, N.C., where the Republican presidential nominee was accused of threatening to assassinate his Democratic rival Hillary Clinton.
He said during a campaign event in Abingdon, Va., that broadcast networks such as CNN and MSNBC took his comments wildly out of context.
"The big part of the rigged system is the press itself, because they can take a little story that isn't a story and make it into a big deal," said Trump. "It happens so much."
"And speaking of that, remember this: we have so many things we have to protect in this country," he continued. "We have to protect our Second Amendment, which is under siege."
Trump explained on "Hannity" Tuesday night when he said "the Second Amendment people" could "do" something about Clinton, he was referring to the "tremendous political movement" behind the Second Amendment and the ability of gun rights activists to lobby against the liberal Supreme Court picks of a Hillary Clinton presidency.  
"If she gets to pick her judges, nothing you can do folks," he said in N.C. on Tuesday. "Although the Second Amendment people, maybe there is. I don't know."
Does that sound like a threat or call to violence? Let us know what you think in the comments section below.