(Image via Twitter)
Donald Trump is holding a private fundraiser in San Diego, Calif., Wednesday afternoon that has been projected to raise as much as $4 million.
The event will take place at a private home in Rancho Santa Fe and will be attended by approximately 50 people, The San Diego Union-Tribune reports.
According to the invitation, tickets ranged from $25,000 per person to $300,000 per couple, depending on whether donors wanted to be listed as event chairs.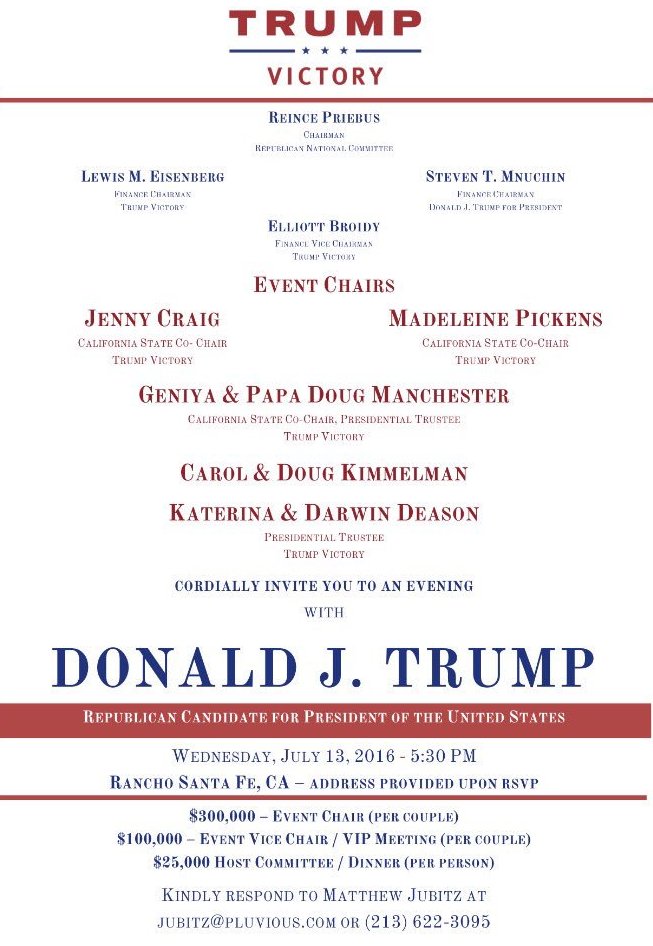 The event is being hosted in part by diet empress Jenny Craig and Madeleine Pickens, owner of the Del Mar Country Club and ex-wife of Texas billionaire T. Boone Pickens.
Trump is expected to discuss his agenda with an emphasis on his plans for the economy.
The fundraiser marks Trump's first appearance in Southern California since a large rally at the San Diego Convention Center in May.
Part of the proceeds will go to the Republican National Committee. Its convention begins Monday in Cleveland, Ohio. 
Trump has no scheduled public appearances for his brief San Diego visit.