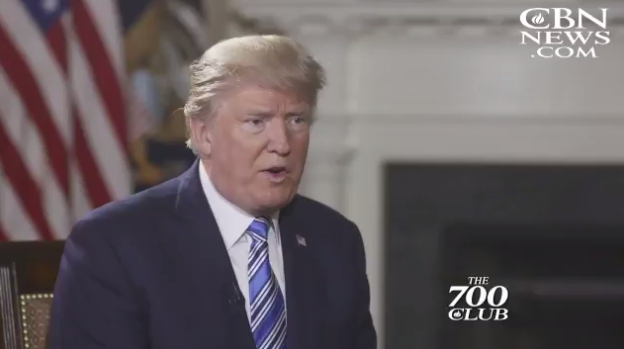 In an interview with the Christian Broadcasting Network (CBN), President Trump said that Russia's president Vladimir Putin would have been happier if Hillary Clinton had won the 2016 U.S. presidential election.
"I'm a big military person," said Trump. "If Hillary had won, our military would be decimated. Our energy would be much more expensive. That's what Putin doesn't like about me and that's why I say, why would he want me? Because from day one, I wanted a strong military. He doesn't want to see that. And from day one, I wanted fracking … to get energy prices low."
"He would like Hillary, who wants to have windmills," he added.
Trump said that the claim that Russia favored him to win the presidency over Clinton is hard for him to understand.
"There are many things that I do that are the exact opposite of what he would want," he said. "So when I keep hearing that he would've rather had Trump, I think probably not."
The President said that he "think[s] it was Russia" who meddled in the 2016 presidential election, but that "nobody really knows for sure." He reportedly raised the issue during his one-on-one meeting with Putin at the G20 Summit in Germany last week, in which the Russian president "vehemently" denied any involvement. 
While discussing with CBN Founder Pat Robertson his G20 meeting with Putin, Trump explained that he believes it's important for the U.S. and Russia as "tremendously powerful nuclear power[s]" to have a good relationship.
"He wants what's good for Russia and I want what's good for the United States… But always Putin's going to want Russia and Trump's going to want the United States," he said.
"We had a good meeting… Yeah, I think we get along very well, and I think that's a good thing," Trump continued. "We're a tremendously powerful nuclear power and so are they. It doesn't make sense [not] to have some kind of relationship."
The full interview airs Friday on "The 700 Club."
Thank you for supporting MRCTV! As a tax-deductible, charitable organization, we rely on the support of our readers to keep us running! Keep MRCTV going with your gift here!