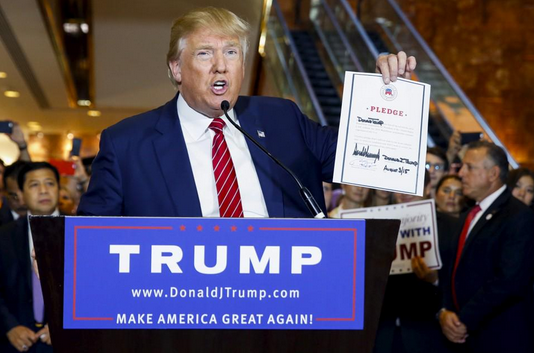 Image via Twitter
During a press conference in New York City following his meeting with the Republican National Committee chairman on Thursday, presidential candidate Donald Trump announced that he had signed a pledge to support the GOP nominee for president.
In doing so, he ruled out the possibility of running as a third-party candidate if it so happens that he loses out on the Republican nomination.
"I have signed the pledge," Trump announced. 
"I will be totally pledging my allegiance to the Republican Party and the conservative principles for which it stands."
The real estate mogul said that all he wants in return is to be treated fairly by the Republican Party:
"I've wanted fairness," Trump explained. "I don't have to be treated any differently than anybody else."
"I just want fairness from the Republican Party," he said. 
To watch his speech, watch the Fox News video clip below.
Sponsored Links