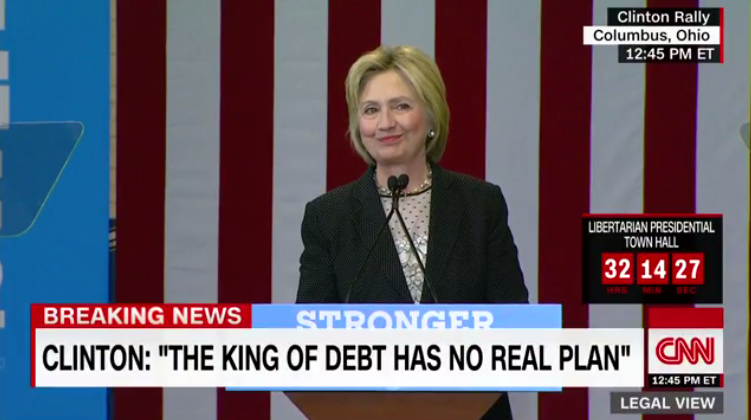 (Image via Screenshot)
Hillary Clinton took aim at Donald Trump during a campaign rally in Columbus, Ohio, on Tuesday.
The presumptive Democratic presidential nominee criticized Trump for citing his business expertise as a qualification for the presidency.
She dubbed him "the king of debt" for his Chapter 11 bankruptcy filings.   
"Donald Trump has said he's qualified to be president because of his business record," she began. "A few days ago he said, and I quote, I'm going to do for the country what I did for my business."
"He's written a lot of books about business… They all seem to end at Chapter 11," said Clinton, drawing applause from the audience. "Go figure."
Trump live-tweeted Clinton's speech. He owned up to his history with bankruptcy, saying, "I am 'the king of debt.' That has been great for me as a businessman, but it is bad for the country." 
"I made a fortune off of debt, will fix U.S.," he added. 
Clinton is expected to discuss her economic plan in Raleigh, N.C., on Wednesday.