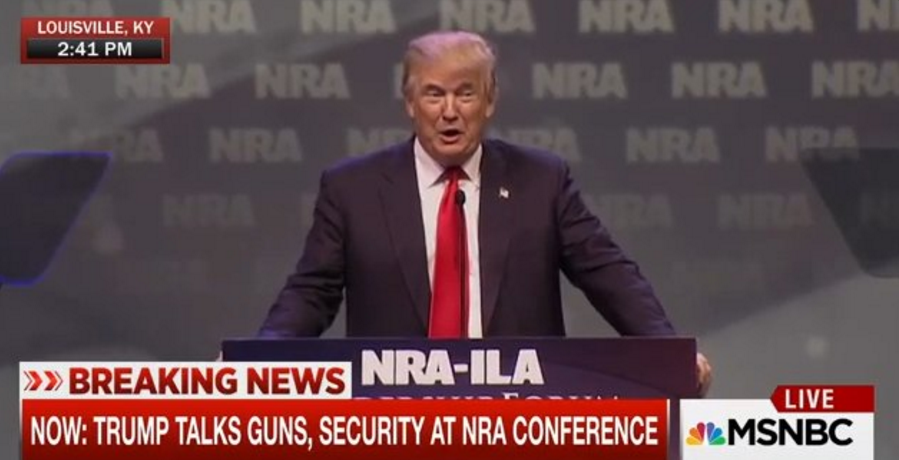 (Image via Twitter)
Donald Trump spoke on his gun rights agenda at the NRA-ILA Leadership Forum in Louisville, Ky. Friday evening.
The presumptive GOP presidential nominee began by thanking the National Rifle Association for their endorsement:
"I've been a member for a long time and my boys are members and they're much better shooters than I am… So to get the endorsement, believe me, is a fantastic honor," said Trump. "I will not let you down. Remember that."
He went on to criticize Clinton as "the most anti-gun, anti-Second Amendment" presidential candidate in U.S. history.
"The Second Amendment is under a threat like never before," said Trump. "Crooked Hillary Clinton is the most anti-gun, anti-Second Amendment candidate ever to run for office. And as I said before, she wants to abolish the Second Amendment. She wants to take your guns away."
"We're not going to let that happen," he said earlier. "I'll tell you that right now."
"They keep chipping away," said Trump, referring to the Obama administration's efforts to expand gun control measures. "We're going to take care of it."
Ahead of the event, Trump tweeted an audio clip of Democratic presidential frontrunner Hillary Clinton criticizing the Supreme Court for being "wrong on the Second Amendment." 
During his speech, Trump said that he plans to get rid of "gun-free zones" among other gun control measures.