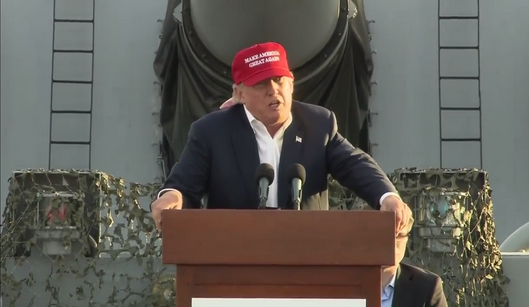 Image via Twitter
Donald Trump held a campaign rally aboard the USS Iowa in Los Angeles on Tuesday, the evening before the second round of Republican presidential candidate debates.
During the event, Trump avowed to make America's military "so big and so strong and so great" that "nobody's going to mess with us."  
"We're gonna make our military so big and so strong and so great," he said. "And it will be so powerful that I don't think we're ever going to have to use it."
"Nobody's going to mess with us," Trump declared. "That I can tell you."
He added that he would be a president "respected" by hostile world leaders like Russia's Vladimir Putin and Iran's supreme leader Ayatollah Ali Khomeini.
Trump went on to criticize the Iran deal, referencing the side agreement that allows Iran to self-police its nuclear facilities and Ayatollah Khomeini's recent remarks condemning further negotiations with the U.S.
"It is one of the dumbest deals and one of the weakest contracts I've seen of any kind," he said.
To hear Mr. Trump's remarks, click here.
At the rally, the real estate mogul also mentioned what he would do as U.S. president to take care of the nation's veterans.