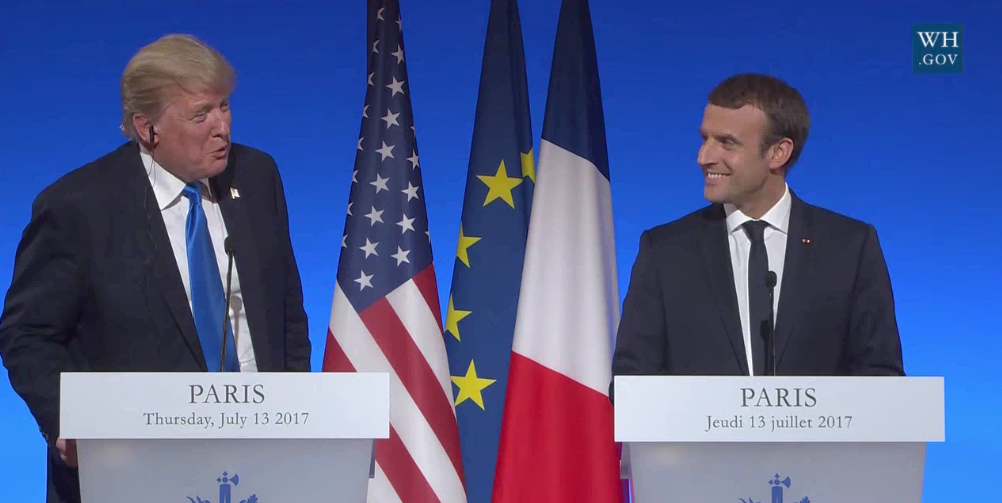 During a joint press briefing with French President Emmanuel Macron and President Trump on Thursday, Trump claimed Macron's election gave him hope about France's future and its ability to fight terrorism.
At the briefing, a reporter asked Trump about his Conservative Political Action Conference speech in which he mentioned a friend, named Jim, who he claimed has said he would not return to Paris due to the rise of terrorism.
The reporter asked Trump if he would repeat his "very strong words."
After joking about the reporter, Trump answered, "You know what? It's gonna be just fine because you have a great president."
"You have someone who's going to run this country right and I would be willing to bet—because I think this is one of the great cities, one of the most beautiful cities in the world—and you have a great leader now," he continued. "You have a great president. You have a tough president. He's not going to be easy on people that are breaking the laws and people that show this tremendous violence. So I really have a feeling that you're gonna have a very, very peaceful and beautiful Paris and I'm coming back."
"You better do a good job, please. Otherwise you're going to make me look very bad," Trump mockingly addressed to Macron.
The reporter also asked Macron about allegedly criticizing Trump without mentioning his name during a discussing of hosting the Olympics in France.
 "When I have something to say, I'll say it clearly, and I do say who I am aiming at and when I refer to those who have been my opponents in the French political battle, I also mention the names. So let us not mix up everything."
Macron was also asked to condemn the Muslim ban and the border wall, but he didn't respond to the question.
However, Macron responded a question about terrorism by saying in the fight against terrorism, "In this respect, there is no difference, no gap between the French and the American positions."
Thank you for supporting MRCTV! As a tax-deductible, charitable organization, we rely on the support of our readers to keep us running! Keep MRCTV going with your gift here!