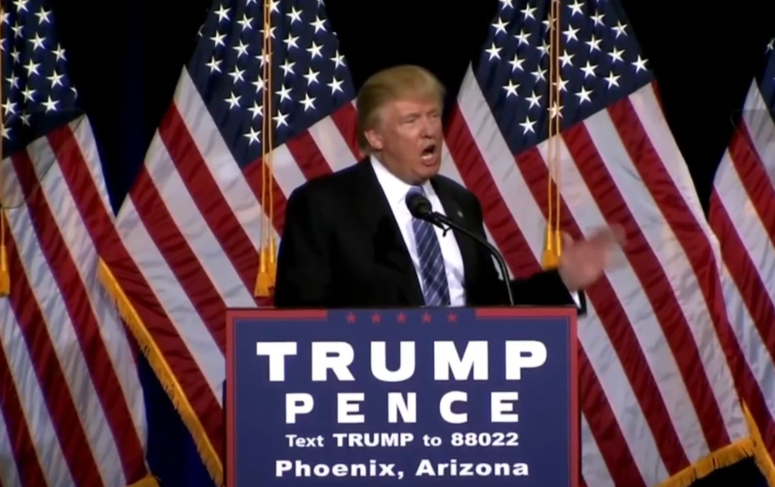 (Image via Screenshot)
Following a private meeting with Mexican President Enrique Peña Nieto, Republican presidential candidate Donald Trump delivered what he deemed a "major speech" on illegal immigration in Arizona Wednesday night.
Seeking to clarify questions about his stance on illegal immigration after he said during a town hall last Tuesday that he was open to "softening" laws dealing with illegal aliens, Trump laid out his plan.
To deal with illegal immigration, Trump plans to build a wall, deport all illegal aliens who have committed a crime, end the policy of catch and release, triple the number of deportation officers, end federal funding for sanctuary cities, and repeal executive orders by President Obama that provide temporary protection for illegal immigrants among other measures.
"There will be no amnesty," he added. "Our message to the world will be this: You cannot obtain legal status or become a citizen of the United States by illegally entering our country."
Addressing his meeting earlier with the Mexican president, Trump said that, like himself, Peña Nieto is "a man who truly loves his country."
"We agreed on the importance of ending the illegal flow of drugs, cash, guns, and people across our border, and to put the cartels out of business," Trump said. "We also discussed the great contributions of Mexican-American citizens to our two countries, my love for the people of Mexico, and the leadership and friendship that we have between Mexico and the United States."
"It was a thoughtful and substantive conversation," he continued, "and it will go on for a while. And in the end, we're all going to win – both countries."
Trump didn't mention whether he and Pena Nieto discussed his plan to build a wall and have Mexico pay for it.
After meeting with Trump in Mexico City, Mexican President Peña Nieto tweeted that, from the start of their conversation, he "made clear that Mexico will not pay for the wall."
Nonetheless, Trump said during his speech that, if elected president, a wall will be built on the U.S.-Southern border.