President Trump on Monday slammed the "fake news" for giving him unfair coverage regarding his administration's efforts toward a denuclearized North Korea.
He tweeted that if former President Obama had made the diplomatic progress he has with the North Korea, Obama would have already been named "a national hero."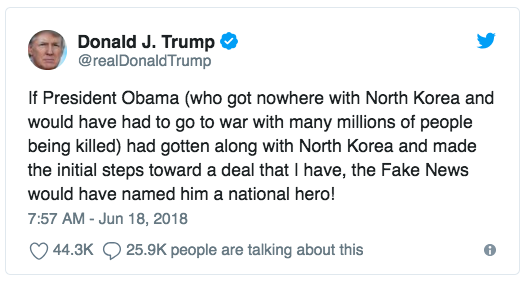 Trump claimed in a recent interview with Fox News that Obama had told him in a meeting at the White House in 2016 while he was President-elect Trump that "[Obama] essentially was ready to go to war with North Korea" and that millions of people would have been killed.   
The President following last week's summit with Kim Jong-un said "great progress was made on the denuclearization of North Korea" and that he "got along great" with the North Korean leader.
The two issued a joint statement indicating that North Korea had an "unwavering commitment to complete denuclearization" as a result of the talks. 
Trump also announced that the U.S. would stop "the war games," or joint military exercises with South Korea, because they were "very provocative" as well as expensive.
In response to critics who accused him of making concessions to the North Korean dictator, Trump said that it was his idea to end the military exercises:
"Holding back the 'war games' during the negotiations was my request because they are VERY EXPENSIVE and set a bad light during a good faith negotiation," the President tweeted Sunday. "Also, quite provocative. Can start up immediately if talks break down, which I hope will not happen!"
He added that "the denuclearization deal with North Korea is being praised and celebrated all over Asia" but at home, "some people would rather see this historic deal fail than give Trump a win, even if it does save potentially millions & millions of lives!"
While there is no "deal" set in stone, the U.S. and North Korea have plans to engage in "vigorous negotiations" regarding the denuclearization process.
Trump said last week that he will be inviting Kim "at the appropriate time" to the White House. He also said there is a possibility of a future visit to Pyongyang.