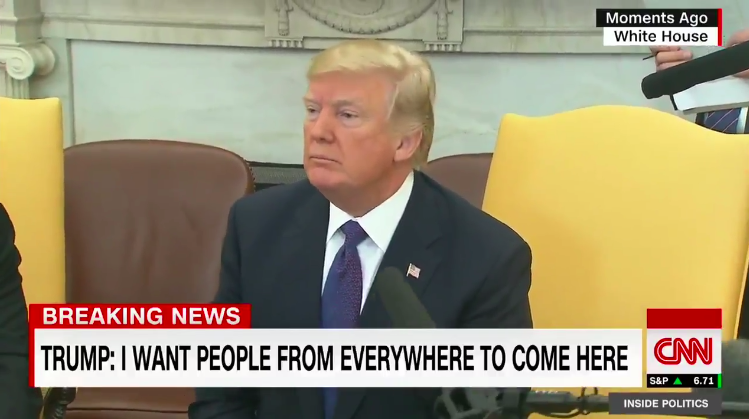 Image via Screenshot
Still facing backlash for his alleged comments at a meeting on immigration at the White House last week, President Trump says he wants immigrants "to come in from everywhere."
When asked by CNN's Jim Acosta if he preferred immigrants who are "just caucasian or white," Trump replied, "I want them to come in from everywhere. Everywhere."
There are conflicting accounts of what the President had actually said. Sen. Dick Durbin (D-Ill.) claims that Trump asked why the U.S. should accept immigrants from Haiti, El Salvador, or certain African nations, which he allegedly referred to as "shithole countries."
It was also said that Trump expressed a preference for immigrants from countries like Norway.
Sen. Lindsey Graham (R-S.C.) did not confirm the exact language Trump used but he did support Durbin's account and said that he gave the President his "piece" on the issue.
Others such as Sen. Tom Cotton (R-Ark.) and Sen. David Perdue (R-Ga.) have denied Trump made the derogatory remark and have called it "a gross misrepresentation."
Trump defended himself on Twitter Friday, saying that he "never said anything derogatory about Haitians other than Haiti is, obviously, a very poor and troubled country."
He added that that the language he used during the meeting was "tough," but that he didn't use the language that was being reported.
President Trump on Sunday told reporters that he is "the least racist person you will ever interview." 
He shifted blame to Democrats whom he says don't actually want a deal on the Deferred Action for Childhood Arrivals (DACA) program.
Talks on spending and immigration ahead of the fast-approaching Jan. 19 deadline to prevent a government shutdown seem to have grinded to a standstill.
Democrats have threatened a shutdown if lawmakers cannot reach a deal on the fate of DACA and its enrollees. They are demanding relief from deportation for illegal immigrants enrolled in the program.
Making matters worse, Democrats are piling on to boycott the President's first State of the Union Address scheduled for Jan. 30, citing the President's reported remarks.
Thank you for supporting MRCTV! As a tax-deductible, charitable organization, we rely on the support of our readers to keep us running! Keep MRCTV going with your gift here!