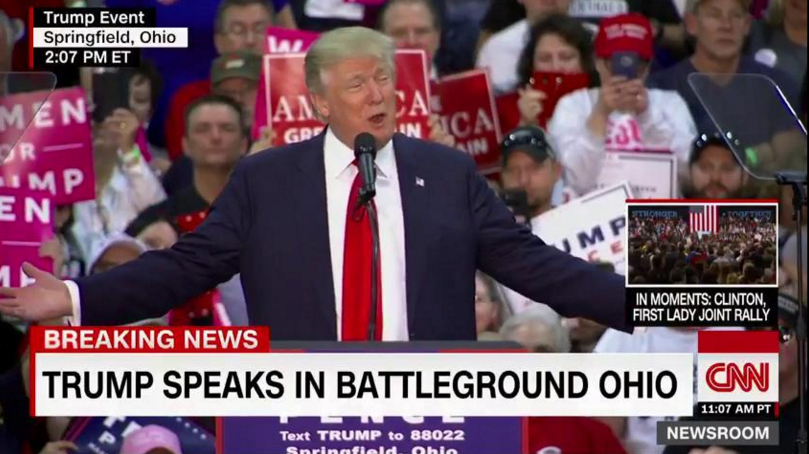 (Image via Twitter)
At a rally in Springfield, Ohio, on Thursday, Donald Trump slammed Hillary Clinton as "the most corrupt person ever to seek the office of the president."
The Republican presidential candidate discussed the most recent revelations from Wikileaks that a Clinton ally donated nearly half a million dollars to the wife of an FBI official who later helped oversee the investigation into Clinton's private email use.  
"I think we've had enough of the Clintons," said Trump.
"I mean at what point do we say it?" he went on. "Hillary Clinton is the most corrupt person ever to seek the office of the president."
Trump said that real change begins with ridding the nation's capital of corruption.
"When we win, we are going to Washington, D.C., and we are going to drain the swamp," he said.  
MRCTV Reader,
The liberal media are terrified of the truth, especially when it leads to uncomfortable questions about their own leftist worldview.
MRCTV is the multimedia division of MRC featuring original content and aggregated videos of the news, people, and events conservatives care about.
MRCTV relies on the support of our loyal readers (and video viewers) to keep providing the news and commentary that matter to the American people, not just stories that prop up the liberal agenda.
Make a donation today. Just $15 a month would make a tremendous impact and enable us to keeping shining the light where the liberal media are afraid to tread.
— The MRCTV Team
DONATE
Connect
Sign up for our MRCTV newsletter to receive the latest news.
Sponsored Links