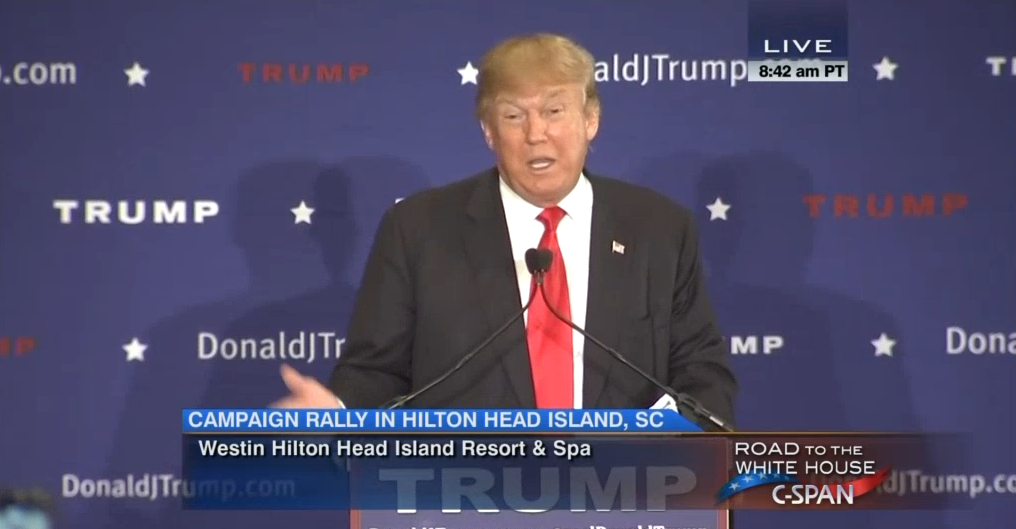 Image via Screenshot
During a campaign rally in Hilton Head Island, S.C. on Wednesday, Republican presidential candidate Donald Trump responded to recent remarks made by Democratic front-runner Hillary Clinton, who accused the real estate mogul of having "a penchant for sexism."
"Nobody respects women more than Donald Trump. That I can tell you," he began. 
"You know, when [Clinton] said that, I had no choice 'cause I didn't start it. I did have to mention her husband's situation," he added, referring to a series of comments he made on Twitter reminding his followers of Mr. Clinton's history of marital infidelity and alleged sexual assault.
"We have to do it," Trump continued. "You can't let people push you around. You can't let people tell lies. You can't do it."
He went on to say that if the 2016 general election happens to be Trump versus Clinton, America will witness "the greatest voter turnout in the history of this country."
Trump added that his high poll numbers – in spite of poor publicity – demonstrate how voters are "fed up" with the media.
"They're so fed up with the system. They're fed up with those guys back there – the media. They're the worst," he fired.
Check out a short clip from the rally below. 
MRCTV Reader,
The liberal media are terrified of the truth, especially when it leads to uncomfortable questions about their own leftist worldview.
MRCTV is the multimedia division of MRC featuring original content and aggregated videos of the news, people, and events conservatives care about.
MRCTV relies on the support of our loyal readers (and video viewers) to keep providing the news and commentary that matter to the American people, not just stories that prop up the liberal agenda.
Make a donation today. Just $15 a month would make a tremendous impact and enable us to keeping shining the light where the liberal media are afraid to tread.
— The MRCTV Team
DONATE
Connect
Sign up for our MRCTV newsletter to receive the latest news.
Sponsored Links