The Trump family may be taking legal action against MSNBC.
The possible legal action against MSNBC and Lawrence O'Donnell comes after the network aired an unverified report accusing President Donald Trump of having loans co-signed by Russian oligarchs.
President Trump simply demanded an apology from "Crazy Lawrence O'Donnell" on Twitter Thursday morning.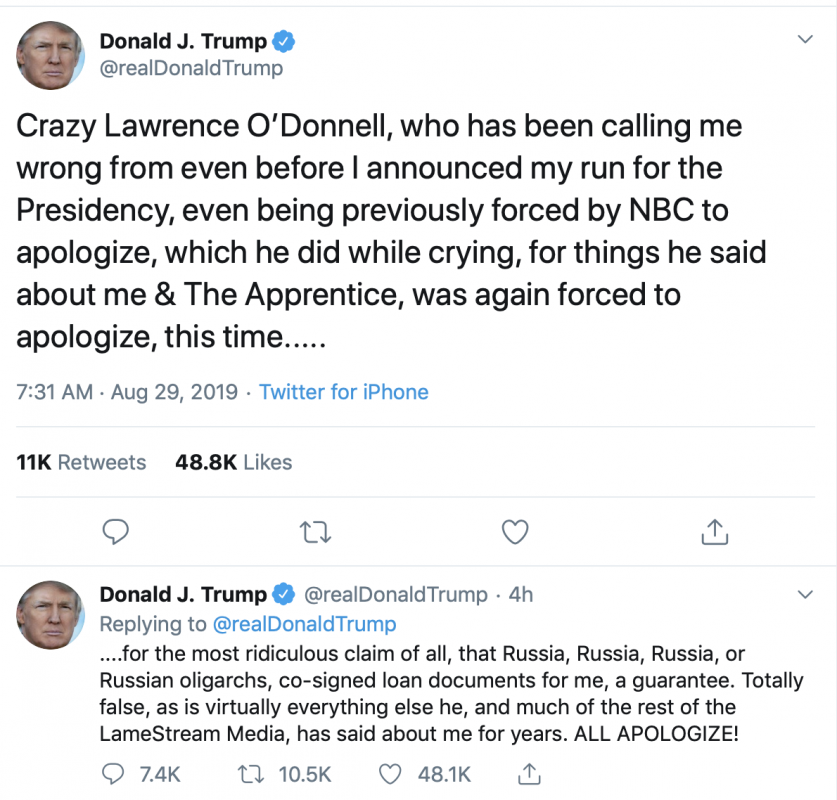 On Wednesday evening, however, Eric Trump, tweeted a response to O'Donnell's tweet about his "error in judgement" saying "As a company we will take legal action. This unethical behavior has to stop."
This was a reckless attempt to slander our family and smear a great company. Apologies are not enough when the true intent was solely to damage and cause harm. As a company, we will be taking legal action. This unethical behavior has to stop. @Lawrence @MSNBC https://t.co/i4X6CcdkCm

— Eric Trump (@EricTrump) August 29, 2019
O'Donnell's tweet came hours after the president's legal team sent a harshly worded letter to NBC demanding an apology and retraction for what it called "false and defamatory, and extremely damaging" comments.
The network even tweeted video of O'Donnell retracting his "false" report on air. Check out O'Donnell's mea culpa below.
WATCH: Lawrence O'Donnell retracts his reporting about Trump loans. pic.twitter.com/JxNsIPhBNg

— MSNBC (@MSNBC) August 29, 2019