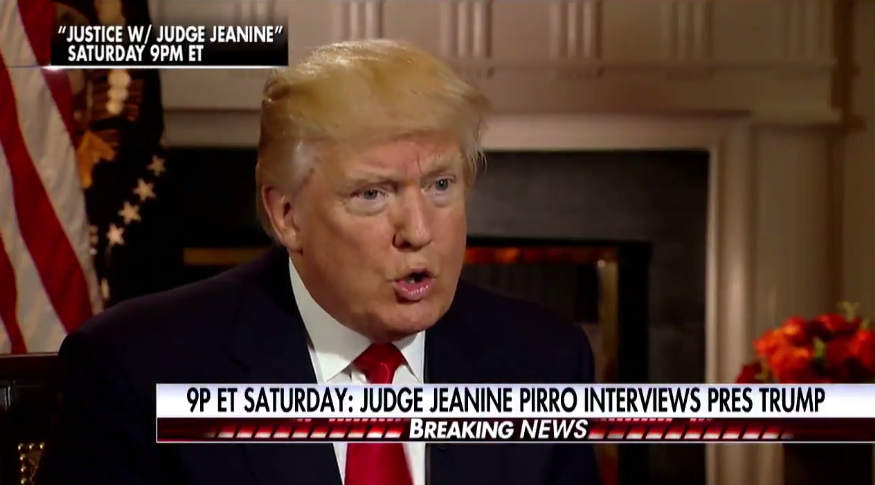 (Image via Screenshot)
President Trump in an interview over the weekend doubled down on his threat to cancel White House press briefings.
Amid ongoing tensions between him and the media, Trump said he thinks "it's a good idea" to cancel the daily briefings.
He even suggested that the White House give the media press releases instead, or that he himself would take the podium every two weeks to ensure there are no misunderstandings or miscommunications.
"We don't have press conferences," said Trump. "We just don't have them. Unless I have them every two weeks and do it myself. We don't have them. I think it's a good idea."
He defended his press secretary Sean Spicer and deputy press secretary Sarah Huckabee for their performances.
"You have a level of hostility that's incredible and it's very unfair," said Trump. "Sarah Huckabee is a lovely young woman. You know Sean Spicer. He's a wonderful human being. He's a nice man."
The President added that Spicer does a good job, "but he gets beat up."
"As a very active President with lots of things happening, it is not possible for my surrogates to stand at podium with perfect accuracy!" Trump tweeted on Friday, after the media hammered him for inconsistencies between his statements and those of his spokespeople on his decision to fire FBI Director James Comey. 
"Maybe the best thing to do would be to cancel all future 'press briefings' and hand out written responses for the sake of accuracy???" he added.
Thank you for supporting MRCTV! As a tax-deductible, charitable organization, we rely on the support of our readers to keep us running! Keep MRCTV going with your gift here!