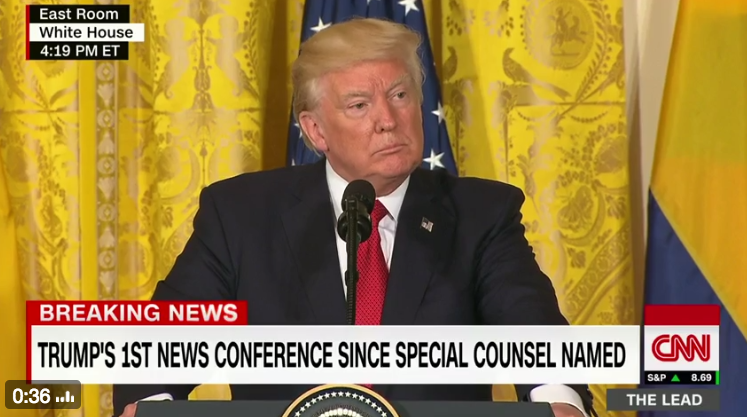 (Image via Screenshot)
President Trump held a joint press conference with Colombian president Juan Manuel Santos on Thursday amid new allegations and continued suspicion over his ties to Russia.
During the event, he was asked to respond to the news that Deputy Attorney General Rod Rosenstein has appointed special counsel to lead the investigation into Russia.
"I respect the move, but the entire thing has been a witch hunt," Trump said. "There is no collusion between certainly myself and my campaign."
"I think it divides the country," he went on. "I hate to see anything that divides. I'm fine with whatever people want to do, but we have to get back to running this country really, really well."
Trump insisted that his administration has made "tremendous progress" since he took office on the fronts of jobs, border security, and the fight against ISIS, and that the allegations of collusion with Russia are nothing but distracting. 
"Believe me, there's no collusion," he said. "Russia is fine. But whether it's Russia or anybody else, my total priority is the United States."
Speculation swirled after Trump fired FBI Director James Comey, who was leading the Bureau's ongoing investigation into Russia.
Conflicting statements regarding why he ultimately decided to fire Comey sent the media into a frenzy.
Making matters worse, reports surfaced regarding conversations Trump had with Comey prior to his dismissal, alleging that the President had asked the former FBI head to end the Bureau's investigation into former National Security Advisor Michael Flynn and to make him a pledge of loyalty.
Prior to the press conference, Trump on Twitter called the appointment of special counsel to lead the investigation into Russia "the single greatest with hunt of a politician in history!"
He added, "With all the illegal acts that took place in the Clinton campaign and Obama Administration, there was never a special counsel appointed!"
Thank you for supporting MRCTV! As a tax-deductible, charitable organization, we rely on the support of our readers to keep us running! Keep MRCTV going with your gift here!