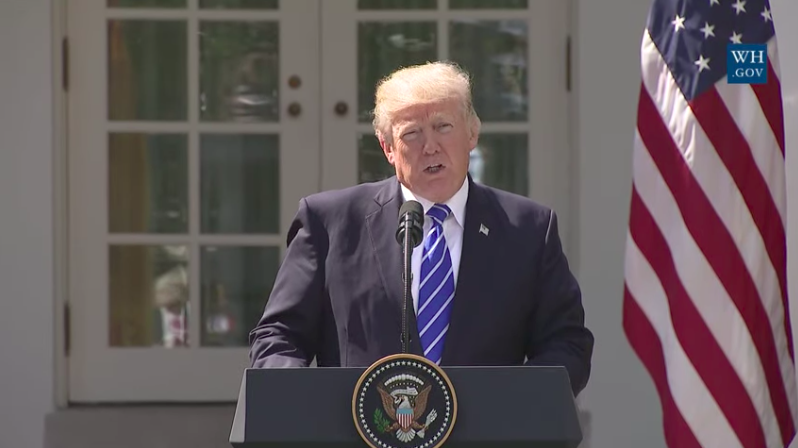 During a joint press conference with Spanish Prime Minister Mariano Rajoy at the White House on Tuesday, President Trump doubled down on his criticism of NFL players who protest the National Anthem.
In response to claims that he was more preoccupied with the NFL than the crisis in Puerto Rico following Hurricane Maria, Trump said he was not.
"I wasn't preoccupied with the NFL," he said. "[But] I was ashamed of what was taking place."
"To me the NFL situation is a very important situation," he continued. "I've heard that before about, was I preoccupied. Not at all. Not at all. I have plenty of time on my hands. All I do is work. And to be honest with you, that's an important function of working – respect for our country."  
The President went on to say that kneeling during the Anthem is "disgraceful."  
"Many people have died," he said. "Many, many people. Many people are so horribly injured … And they were fighting for our country. They were fighting for our flag. They were fighting for our National Anthem.
"For people to disrespect that by kneeling during the playing of our National Anthem I think is disgraceful," Trump argued.
His comments come just days after his controversial remarks at a rally in Alabama where Trump said an NFL player who protests the National Anthem is a "son of a [expletive]" that deserves to get fired.
The President has since faced a firestorm of criticism from pro athletes, team owners, and celebrities who have called the him divisive and unpresidential.  
Thank you for supporting MRCTV! As a tax-deductible, charitable organization, we rely on the support of our readers to keep us running! Keep MRCTV going with your gift here!