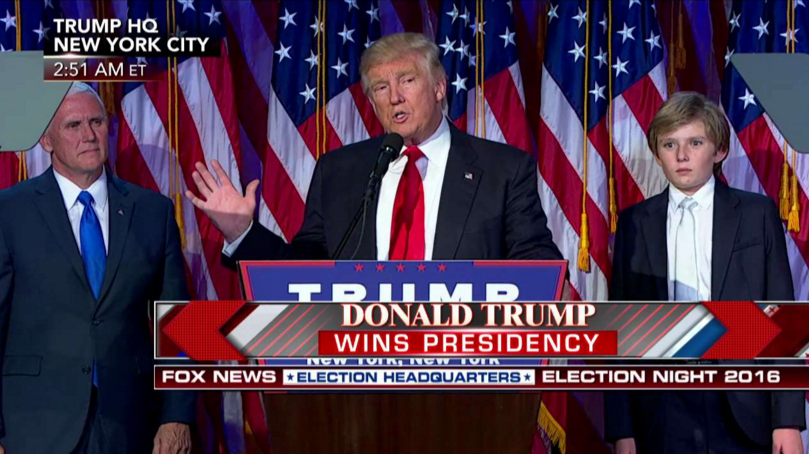 (Image via Twitter)
Donald Trump was elected the 45th President of the United States on Tuesday.
The Republican presidential nominee delivered his acceptance speech from the Hilton in Midtown, Manhattan, early Wednesday morning, soon after the election was called in his favor.
During his remarks, he congratulated his Democratic rival Hillary Clinton "on a very, very hard-fought campaign."
"I just received a call from Secretary Clinton," said Trump. "She congratulated us on our victory and I congratulated her and her family on a very, very hard-fought campaign. She fought very hard."
"Hillary has worked very long and very hard over a long period of time and we owe her a major debt of gratitude for her service to our country," he continued. "I mean that."
Trump went on to say that the country must now focus on healing and unifying.
"Now it's time for America to bind the wounds of division," he said. "We have to get together."
Republican, Democrat, or Independent, "I say it is time for us to come together as one united people," Trump said. "It's time."
He made an appeal to those who did not vote for him in the general election, saying, "For those who have chosen not to support me in the past … I'm reaching out to you for your guidance and your help so that we can work together to unify our country."
Trump made sure to thank his campaign, his supporters, and especially, his family. 
"I love you and I thank you and especially for putting up with all of those hours," he said. "This was tough... This political stuff is nasty and it's tough." 
Clinton did not deliver a concession speech Tuesday night.
Instead, she called Trump to congratulate him on his victory.
Her campaign manager John Podesta showed up to the Clinton election party at Manhattan's Javits Convention Center without the Democratic presidential nominee to announce that they will be awaiting the final vote count.