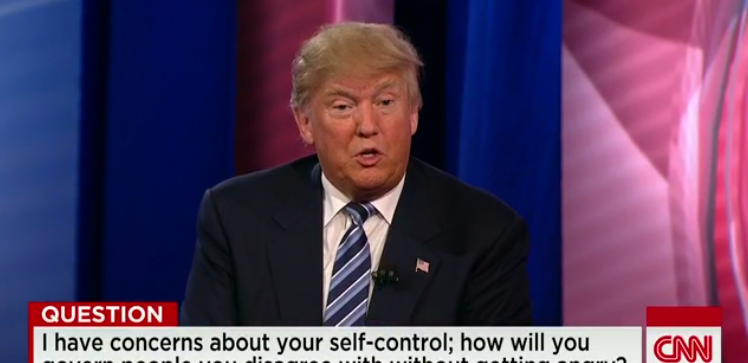 Image via Screenshot
During the CNN GOP town hall in South Carolina Thursday night, Donald Trump defended himself against Americans' concerns about his temper and lack of self-control.  
The real-estate mogul said that he wouldn't have had such a successful business career if he didn't have "a great temperament."
"I have a great temperament," said Trump. "You don't build a great company – and especially a company with very little debt and all the kinds of things that I have…"
He went on to say that America needs a president with "a certain toughness" in the face of threats like ISIS.
"We need a certain toughness," he went on. "Look, we have ISIS chopping off people's heads, Christians' heads, everybody else's heads, drowning people in cages. This is like Medieval times."
Check out his remarks in the video clip below.
Later, when asked whether he believes in compromise, Trump replied, "I believe in compromise where I win." He then criticized President Obama for using executive orders to bypass Congress.
Listen to what he had to say here: