Democrats are so in love with open borders and illegal immigration that President Trump is thinking about doing them a great favor in granting them their heart's desires. 
"Due to the fact that Democrats are unwilling to change our very dangerous immigration laws, we are indeed, as reported, giving strong considerations to placing Illegal Immigrants in Sanctuary Cities only," Trump tweeted Friday. "The Radical Left always seems to have an Open Borders, Open Arms policy – so this should make them very happy!"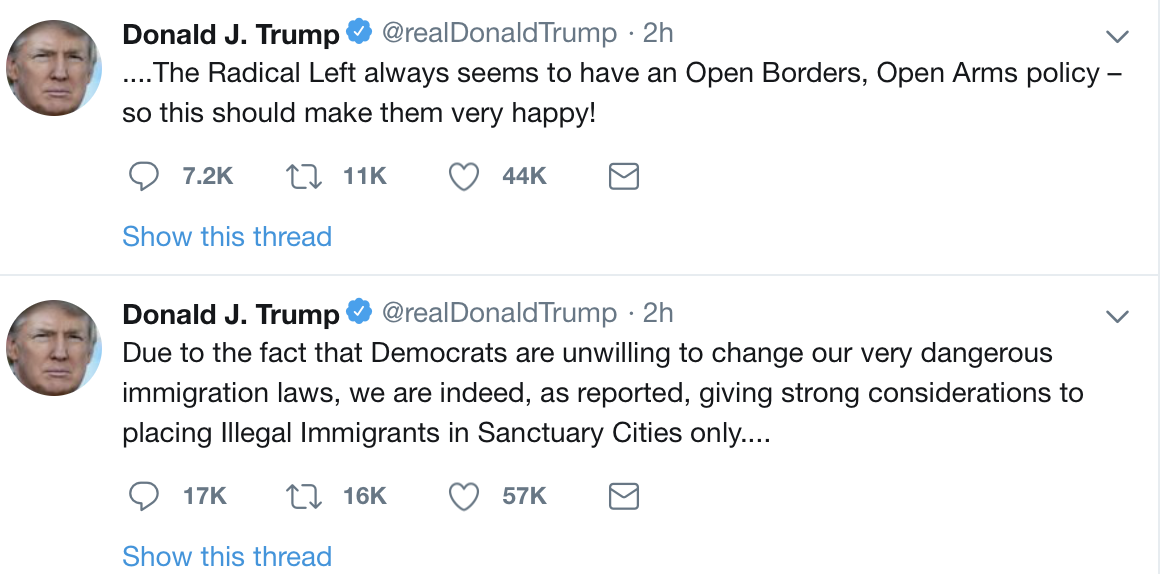 I wonder how those who are all up for illegal immigration will react when they find out their districts could possibly be flooded with people who came over here without going through the proper channels?
Rep. Nancy Pelosi (D-Calif.) responded to the president's thoughts at a press conference recently, and seemingly was not too fond of the idea. I wonder why? 
"It's just another notion that is unworthy of the President of the United States," she said. "It's disrespectful of the challenges that we face as a country, as a people to address who we are — a nation of immigrants."
I guess it's one thing to say you're fine with open borders, but when it's placed in front of you  - to actually live out what you claim to believe, that might be something you want to avoid.
The White House did approach DHS and ICE about this idea but the agencies responded that it would be illegal for various reasons, but the president is still thinking of ways it can be done, according to Fox News.