In this age of transparency resulting from people wanting to know everything the minute it happens, some things are better left unknown until it's okay for people to know.
On Wednesday, President Trump tweeted confirmation that CIA Director Mike Pompeo met with North Korean dictator Kim Jong-un over Easter weekend.
Here's the president's tweet: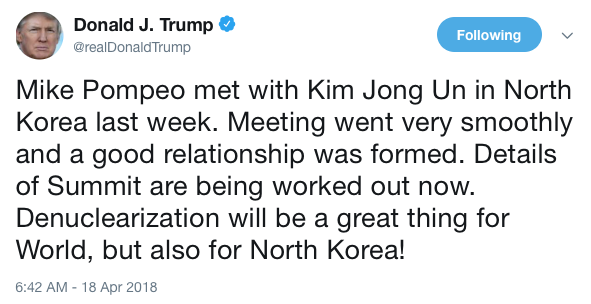 The confirmation of the meeting between Pompeo and Jong-un comes a little more than a month after news that a proposed summit between Trump and the North Korean leader was possible.
According to the Washington Post:
The extraordinary meeting between one of Trump's most trusted emissaries and the authoritarian head of a rogue state was part of an effort to lay the groundwork for direct talks between Trump and Kim about North Korea's nuclear weapons program[...]

Trump did not give further details of the talks, which took place over Easter weekend, according to the two people who first described the Pompeo trip to The Post. It was unclear why Trump referred to "last week" in his tweet.
Trump's possible talk with Jong-un will hopefully help denuclearization talks to progress. Other world leaders - such as Japanese Prime Minister Shinzo Abe - are said to be optimistic, considering Trump was able to open a dialogue for the possibility of a summit with Jong-un.
"The background of this change is Donald's unwavering conviction, as well as the determination that you demonstrated in addressing the issue of North Korea," Abe told Trump, according to Breitbart. "So your stance made it possible to achieve this major change."
Whoever people want to actually give credit to, the prospect of North Korea denuclearizing - and Kim Jong-un possibly taking his finger off the "button" - is at a place that hasn't been seen since Jong-un took over for his late father Kim Jong-il in 2011.