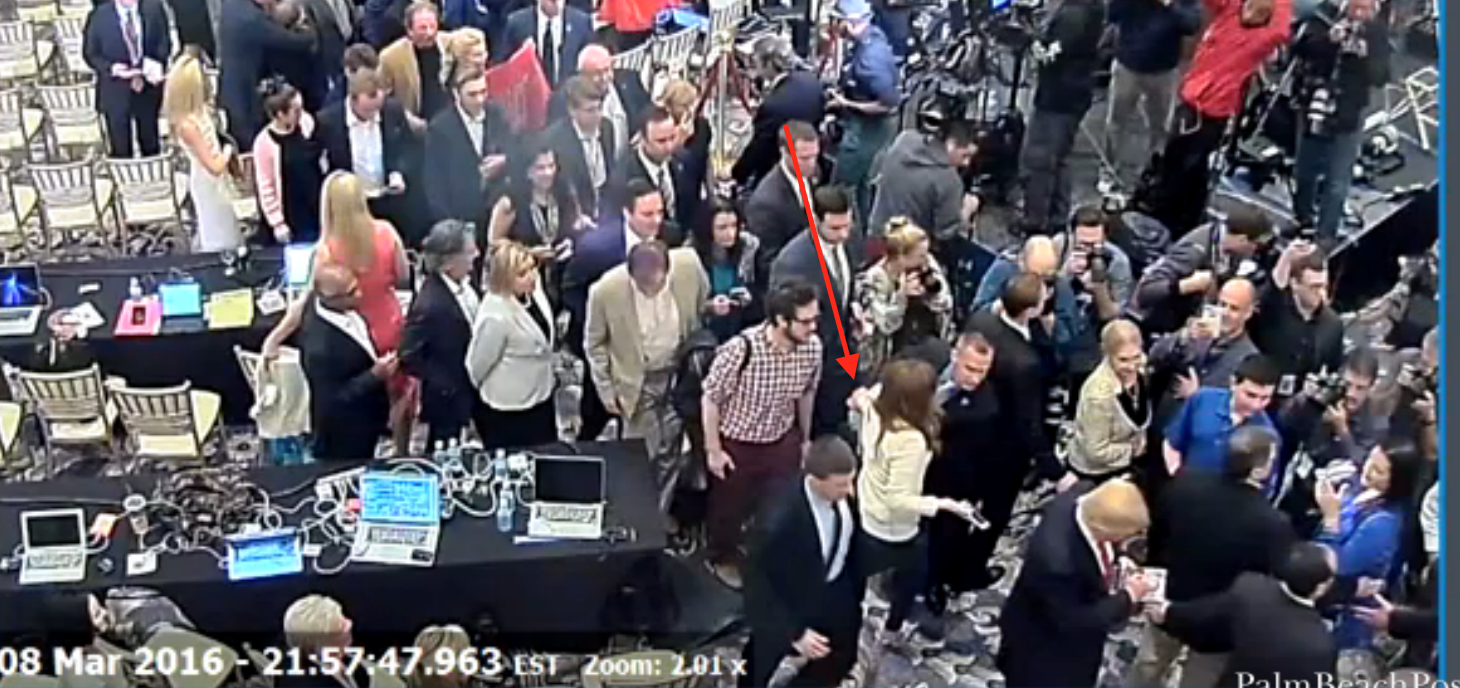 Donald Trump's campaign manager, Corey Lewandowski, has been charged with simple battery because of an incident earlier this month in which then-Breitbart reporter Michelle Fields accused Lewandowski of grabbing her arm, pulling her back and leaving her with bruises on her arm. Like all defendants, Mr. Lewandowski is considered innocent until proven guilty in a court of law. However, does have a history of overly-aggressive acts.
Under Florida law, simple battery is a first degree misdemeanor, with penalties of up to one year in jail or 12 months probation, and a $1,000 fine.
The charges result from an incident which occurred after a March 8 conference at Trump National Golf Club in Jupiter Florida. As Mr. Trump as walking out, Ms. Fields tried to ask him a question. As Michelle Fields told her story,
I was jolted backwards. Someone had grabbed me tightly by the arm and yanked me down. I almost fell to the ground, but was able to maintain my balance. Nonetheless, I was shaken.

The Washington Post's Ben Terris immediately remarked that it was Trump's campaign manager, Corey Lewandowski, who aggressively tried to pull me to the ground. I quickly turned around and saw Lewandowski and Trump exiting the building together. No apology. No explanation for why he did this.
Mr. Lewandowski claimed at the time that the reporter was lying. Two days after the incident he tweeted: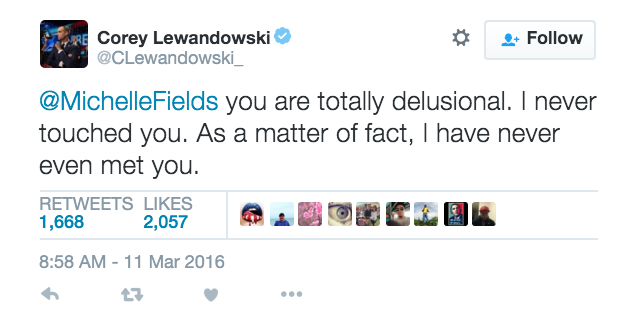 Apparently, the police were convinced by the video, which shows the campaign manager pulling the reporter back (follow the arrow on the screen shot above taken from the video).
This is not the first time Corey Lewandowski has been accused of being overly-aggressive.
Politico recently reported that Lewandowski has  been, "accused of bullying and other inappropriate behavior" by other people in Trump's campaign.
In interviews with more than 20 sources who have dealt with Lewandowski during his nearly year-long tenure with the Trump campaign and in his previous job with the Koch brothers-backed advocacy group Americans for Prosperity, complaints emerged about Lewandowski being rough with reporters and sexually suggestive with female journalists, while profanely berating conservative officials and co-workers he deemed to be challenging his authority.
As Lewandowski built Trump's campaign team, he "developed a reputation for using profanity, controlling access to the candidate and loudly chastising staff who he perceived to be challenging his authority." In fact, Politico suggests that it was a losing battle with Lewandowski for access to Trump that forced long-time Trump associate Roger Stone to leave the campaign
The report claims that other reporters who have covered  Donald Trump's campaign "described instances in which Lewandowski was rough with journalists, using his body to push reporters away from the candidate. They described the former New Hampshire police officer as occasionally acting more like a security guard than a political operative."
"He can get really hot headed at times," said a reporter who has covered the campaign and interacted with Lewandowski throughout the cycle.
According to Fox News, Lewandowski threatened Megyn Kelly in the lead up to the Iowa debate which Mr. Trump decided not to participate
Capitulating to politicians' ultimatums about a debate moderator violates all journalistic standards, as do threats, including the one leveled by Trump's campaign manager Corey Lewandowski toward Megyn Kelly.

In a call on Saturday with a FOX News executive, Lewandowski stated that Megyn had a 'rough couple of days after that last debate' and he 'would hate to have her go through that again.' Lewandowski was warned not to level any more threats, but he continued to do so. We can't give in to terrorizations toward any of our employees.
In an feature about Trump's campaign manager, The New York Times described Lewandowski as hot-tempered:
 who is known to have a temper and who had a mixed reputation at Americans for Prosperity, the group sponsored by Charles G. and David H. Koch he first represented as a lobbyist and for which he later went to work.

(...)After seven years with Americans for Prosperity, Mr. Lewandowski moved on, leaving behind some fans who found him to be efficient and effective, but also some detractors, who found his abrasiveness off-putting.
Recently, at an Trump rally in Arizona in mid-March, Trump's campaign manager went into the crowd and was caught pulling a protester back by his collar.
None of the above is meant to claim that Corey Lewandowski is guilty of the battery charge for which he has been accused. Thankfully, in America, defendants are considered innocent until proven guilty in a court of law and, according to a statement released by the Trump campaign, Mr. Lewandowski will enter a plea of not guilty when he appears in court in early May.
The video of the Michelle Fields incident embedded below was released by the Jupiter Florida police department: