The LeBron James/Ohio police officer saga continues into another day. This time former President Donald Trump enters the story after he released a statement on Thursday condemning the activist basketball player's incendiary tweet about said officer.
"LeBron James should focus on basketball rather than presiding over the destruction of the NBA," Trump said, according to the New York Post.
James targeted the Columbus, Ohio police officer on Wednesday after he did his job and saved a girl from being stabbed during an altercation this past Tuesday.
Here's a screenshot of James' now-deleted tweet: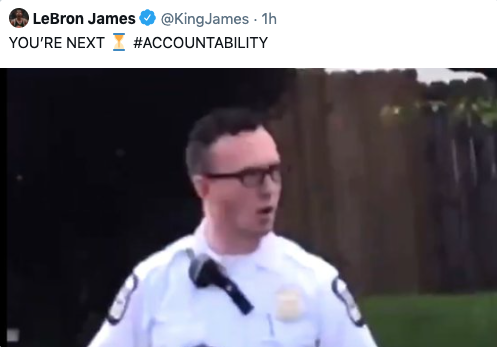 Trump then spoke of James' "RACIST rants" and slammed them by using more than just one adjective.
RELATED: NPR Adds Disclaimer to Police Shooting Story: 'Some Facts Reported By the Media May Later Turn Out To Be Wrong'
"His RACIST rants are divisive, nasty, insulting, and demeaning," Trump's statement read. "He may be a great basketball player, but he is doing nothing to bring our Country together!"
Hours after deleting the tweet above, James posted an explanation as to why he deleted the tweet along with a doubling-down of his sentiment towards police in general.
ANGER does any of us any good and that includes myself! Gathering all the facts and educating does though! My anger still is here for what happened that lil girl. My sympathy for her family and may justice prevail! 🙏🏾✊🏾🤎👑

— LeBron James (@KingJames) April 21, 2021
I'm so damn tired of seeing Black people killed by police. I took the tweet down because its being used to create more hate -This isn't about one officer.  it's about the entire system and they always use our words to create more racism. I am so desperate for more ACCOUNTABILITY

— LeBron James (@KingJames) April 21, 2021