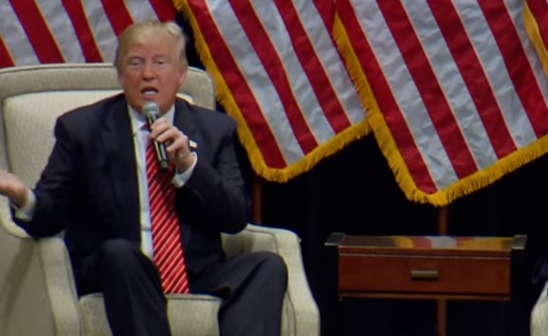 (Image via Screenshot)
GOP presidential frontrunner Donald Trump insisted in an interview on Monday that his campaign rallies are "love fests" and that he is a "peace-loving person."
His remarks come after saying he would "look into" paying the legal fees of a Trump supporter charged with assault for sucker-punching a protester at one of his rallies in N.C. last week. 
"You know how many people have been hurt in our rallies? I think like basically none, other than I guess, maybe somebody got hit once. But there's no violence," he said. "The people that are supporters of Donald Trump want to see America be great again. That's what it is. I mean, it's simple."
Trump praised himself for his decision to cancel a rally in Chicago Friday night due to security concerns of protesters clashing with his supporters.
"Rather than fighting in Chicago, I did something that was a good move – a good decision – because I don't want to see anybody be hurt," he said. "And we've been given so much credit for that decision... But because of that, people say, well, is there violence?"
"There is no violence… These are love fests," Trump claimed. "I'm a peace-loving person, folks."
Listen to the rest of his remarks in the video clip below.
Sponsored Links