President Trump suggested eliminating the University of California, Berkeley's federal funding after violent protests seized the campus and shut down Breitbart Tech editor Milo Yiannopoulos' scheduled speech.
Before Yiannopoulos' talk Berkeley's chancellor, Nicholas Dirks, issued a statement claiming the school is bound by the First Amendment and could not cancel the speech, even though the university administration believes Yiannopoulos' opinions contradict the values of the university. Dirks also stated the administration had pressured the College Republicans to convince them to cancel Yiannopoulos' appearance by asserting his values contradict the values of the university  (despite Berkeley being the home of the Free Speech Movement).
At the end of his statement, Dirks said he the school "encourage[s] those of you who wish to exercise your right to protest this event to review our standing suggestions regarding how to protest safely."
Instead of protesting "safely," protesters tore down barricades, destroyed buildings, and set the campus on fire:
Off-campus buildings also suffered the wrath of the rioters, with one having "kill fascists" spray-painted on it:
As a result of the violence, Berkeley eventually pulled the plug on Yiannopoulos' talk. In a statement, Berkeley claimed to oppose the violence:
We condemn in the strongest possible terms the violence and unlawful behavior that was on display, and deeply regret that those tactics will now overshadow the efforts to engage in legitimate and lawful protest against the performer's presence and perspectives.

[...]

We regret that the threats and unlawful actions of a few have interfered with the exercise of First Amendment rights on a campus that is proud of its history and legacy as home of the Free Speech Movement. As Chancellor Dirks made clear in his message to the Berkeley campus community, while Mr. Yiannopoulos views, tactics and rhetoric are profoundly contrary to our own, we are bound by the Constitution, the law, our values, and the campus's Principles of Community to enable free expression across the full spectrum of opinion and perspective.
In light of the protests, Trump took to Twitter to criticize Berkeley for restricting free speech. He also suggested the school have its federal funding revoked as a result: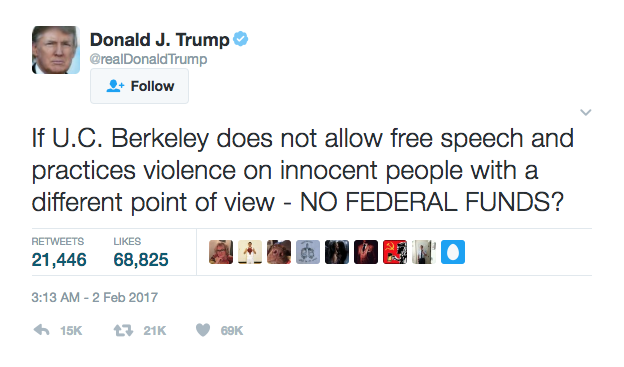 Trump's chief strategist, Steve Bannon, is the former executive chairman for Breitbart News, which employs Yiannopoulos.