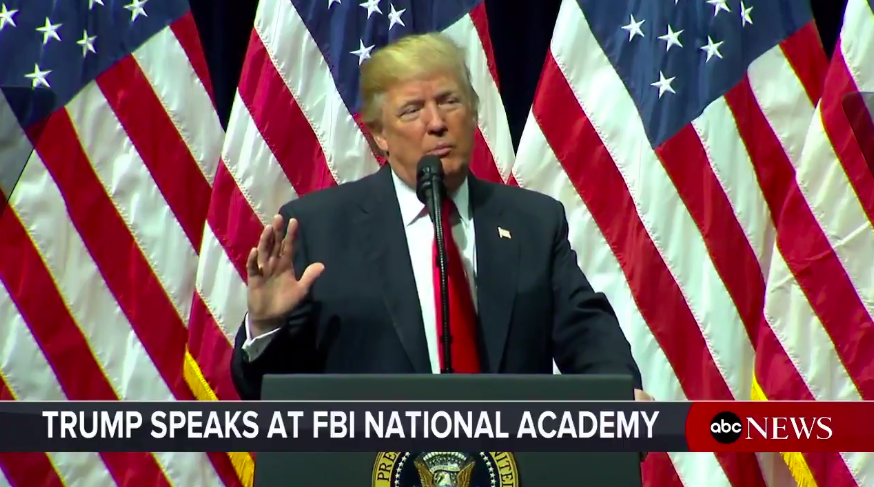 Image via Screenshot
President Trump in a speech on Friday called on Congress to put an end to chain migration and the U.S. visa lottery system, saying that the U.S. is "picking the worst of the worst" to enter the country. 
"You think the countries are giving us their best people? No. What kind of a system is that?" Trump said during a speech at the FBI National Academy's graduation ceremony. "They give us their worst people. They put them in a bin, but in his hand when he's picking them is really the worst of the worst." 
"What a system," Trump said.
The President was referring to the Diversity Immigrant Visa Program, which "makes up to 50,000 immigrant visas available annually, drawn from random selection among all entries to individuals who are from countries with low rates of immigration to the United States," according to U.S. Citizenship and Immigration Services or USCIS.
"We're calling for Congress to end chain migration and to end the visa lottery system and replace it with a merit-based system of immigration," Trump went on.
His remarks come just four days after a terrorist attack in New York City by an attempted suicide bomber who entered the U.S. from Bangladesh through chain migration.
Akayed Ullah "came in under the most extreme, remote possible family-based connection that you can have under current U.S. immigration law," said Director of USCIS L. Francis Cissna at a White House press briefing on Tuesday.
He said that the administration believes the current immigration system should be more selective and that diversity visa lotteries and extended family migration programs are "not the way to run our immigration system."
The White House went so far as to claim that the NYC bombing would not have happened if Congress had worked with President Trump on immigration reform.
Thank you for supporting MRTV! As a tax-deductible, charitable organization, we rely on the support of our readers to keep us running! Keep MRCTV going with your gift here!