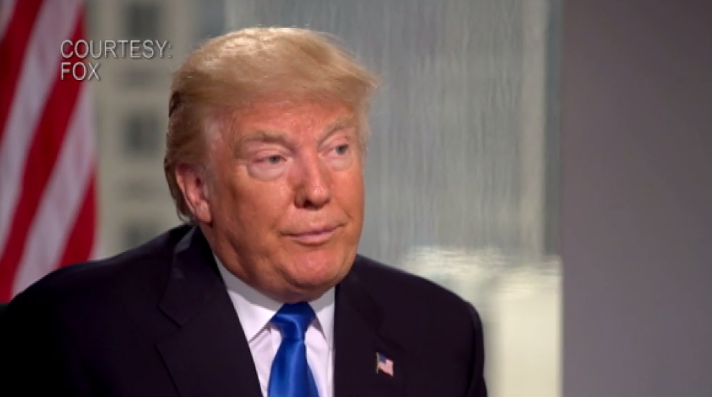 (Image via Screenshot)
Donald Trump did not mince words during his highly-anticipated interview with Fox News host Megyn Kelly Tuesday. 
On the subject of bullying, he said that he thinks that victims have to "do whatever" they have to do to "get over it."
"I have seen bullying, and bullying doesn't have to just be as a child," he said. "I mean, I know people are bullied when they're 55 years old."
"It can happen when you're 45," Kelly interjected, referring to the insults she received from Trump and his supporters following the first Fox News Republican presidential debate in August.
"You know, it happens, right?" he replied. "But, you gotta get over it. Fight back. Do whatever you have to do."
Trump's Twitter rants and degrading remarks toward women including Kelly have been widely publicized. 
During the interview, he defended himself for his past actions, saying that he only attacks when he gets attacked:
"I've been saying this whole campaign that I'm a counter-puncher," said the presumptive GOP nominee. "In just about all cases, I've been responding to what they did to me."
Kelly's one-on-one interview with Trump airs Tuesday night.
Watch a video clip of Trump's remarks below.
MRCTV Reader,
The liberal media are terrified of the truth, especially when it leads to uncomfortable questions about their own leftist worldview.
MRCTV is the multimedia division of MRC featuring original content and aggregated videos of the news, people, and events conservatives care about.
MRCTV relies on the support of our loyal readers (and video viewers) to keep providing the news and commentary that matter to the American people, not just stories that prop up the liberal agenda.
Make a donation today. Just $15 a month would make a tremendous impact and enable us to keeping shining the light where the liberal media are afraid to tread.
— The MRCTV Team
DONATE
Connect
Sign up for our MRCTV newsletter to receive the latest news.
Sponsored Links