President Trump during a joint press conference with Japanese Prime Minister Shinzo Abe said that he would be meeting with Korean dictator Kim Jong-Un "in the coming weeks" to discuss the denuclearization of the Korean peninsula.
"It would be a tremendous thing for North Korea and a tremendous thing for the world," said Trump.
North Korean leader Kim Jong-Un and South Korean President Moon Jae-In are scheduled to meet next Friday at the Korean Demilitarized Zone (or DMZ) as Kim seems open to peace talks between the two countries. 
The President went on to say that peace between North and South Korea is "the destiny for the Korean people, who deserve and have gone through so much over the years."
"We hope it all works out. We'll be trying very hard," he said.
Trump thanked Japanese PM Shinzo Abe for "working so hard" with the U.S. on its "campaign of maximum pressure" on North Korea.
"Your support has been critical to getting us to this important moment in time. It's a historic moment, and possibly beyond that, if it works out properly," said the President.
He added that the ultimate goal is to "end nuclear weapons, ideally in all parts of the world" and that "a bright path" is available to North Korea if they denuclearize.  
President Trump tweeted on Wednesday that CIA Director Mike Pompeo met with North Korean dictator Kim Jong-Un earlier this month.  
Trump wrote that the "meeting went very well and a good relationship was formed."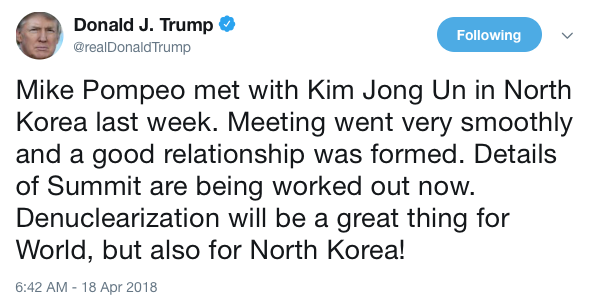 Details of his planned meet with Kim Jong-Un "are being worked out now," he added.