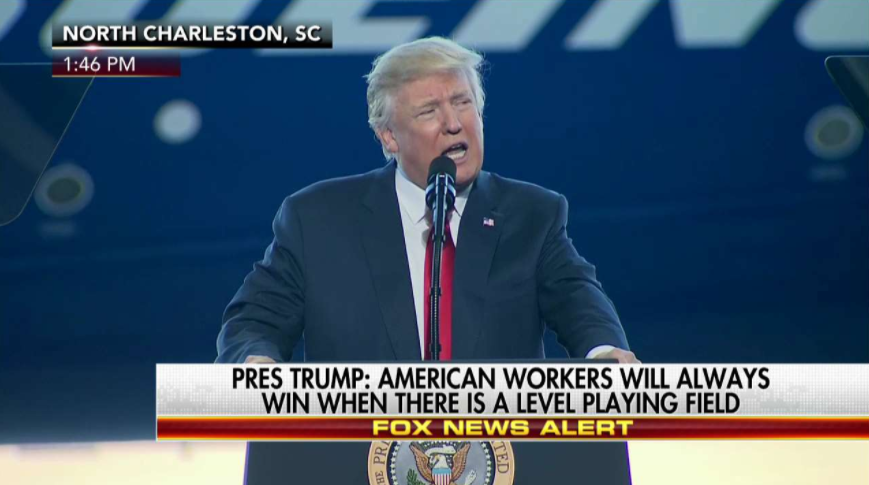 (Image via Twitter)
President Donald Trump held a rally at the Boeing plant in North Charleston, S.C., on Friday.
During his remarks, he spoke on his campaign promise to create jobs and bring on a new era of economic prosperity.   
"As your president, I'm going to do everything I can to unleash the power of the American spirit and to put our great people back to work," said Trump. "We have the greatest people anywhere in the world. We have the greatest spirit."
He said that under his administration, there will be a "level playing field again" for Americans in the workforce.
"American workers will always, always, always win," said Trump. "Very shortly you will have a level playing field again."
The President added that he will do everything he can to keep companies from leaving the U.S. or outsourcing jobs, including a "very substantial penalty to be paid" by businesses who choose to venture abroad.
"Our goal as a nation must be to rely less on imports and more on products made here in the USA," said Trump. "This is our mantra: Buy American and hire American."
"We want products made by our workers, in our factories, stamped with those four magnificent words: Made in the USA," said Trump, drawing applause and chants of "USA" from the audience.
"God bless you," he said, drawing his remarks to a close. "May God bless the United States of America, and God bless Boeing."
President Trump spoke at the rally after he met with Boeing CEO Dennis Muilenberg and took a tour of the plant.
Back in December, Trump threatened to cancel the Defense Department's contract with Boeing to build the Air Force One for future presidents, a deal he deemed too expensive and "out of control."
He later met with Boeing CEO Muilenburg at Trump Tower on Jan. 18, just two days before his inauguration, where the two seemed to reach an agreement on simplified requirements for the presidential aircraft.
Boeing then told Fox News that a contract for $170 million was on the table – as opposed to the original $4.2 billion contract – but hasn't been finalized just yet. 
Thank you for supporting MRCTV! As a tax-deductible, charitable organization, we rely on the support of our readers to keep us running! Keep MRCTV going with your gift here!