President Trump on Saturday congratulated the Senate for confirming Judge Brett Kavanaugh to serve on the U.S. Supreme Court.
Trump tweeted soon after the Senate's final vote results were announced, saying, "I applaud and congratulate the U.S. Senate for confirming our GREAT NOMINEE, Judge Brett Kavanaugh, to the United States Supreme Court."
"Later today, I will sign his Commission of Appointment, and he will be officially sworn in. Very exciting!" he announced.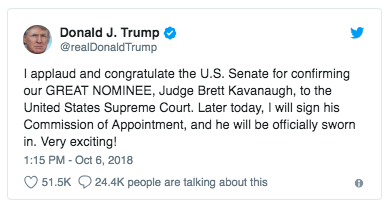 The Senate voted 50-48 on Saturday, confirming Judge Kavanaugh's nomination.
Trump will soon sign a commission appointing Kavanaugh to the bench. The swearing in ceremony where Kavanaugh will take the Judicial Oath is expected to take place Saturday as well, as he plans to take his seat on Tuesday, after the Columbus Day holiday.
Kavanaugh's confirmation is considered a huge victory for conservatives, establishing a conservative majority on the bench.