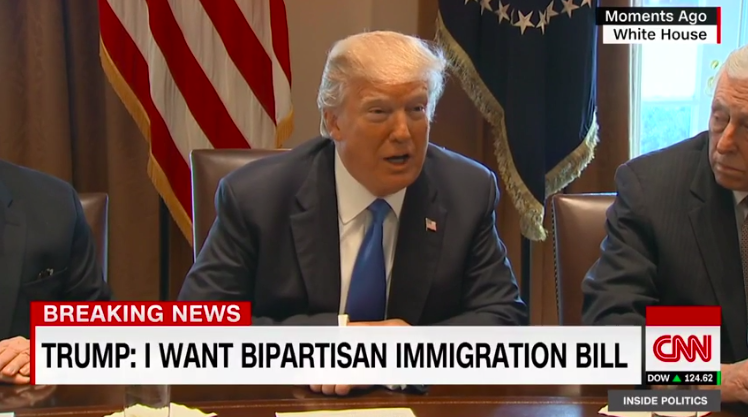 Image via Screenshot
President Trump after meeting with Democratic and Republican lawmakers on Tuesday said that immigration reform must be a product of a bipartisan "bill of love."
"I feel having the Democrats in with us is absolutely vital," said Trump. "This should be a bipartisan bill. This should be a bill of love, really, and we can do that."
He added that while the bill will be one of "love," it must also have strong measures for border security.
"But it also has to be a bill where we secure the border," said the President. "Drugs are pouring into our country at a record pace. People are coming in that we can't have… So in order to secure it, we need a wall, we need to close enforcement loopholes, give immigration officers … the equipment they need."
"This really does need to include a very strong amount of different things for border security. It think everybody in the room would agree to that. I think it's a question of amounts," he continued.
Trump added that the bill will include changes to the U.S. immigration system including ending chain migration and visa lottery programs.
On the question of the Deferred Action for Childhood Arrivals (DACA) program, Trump said, "Maybe we can do something."
He said that any legislation on DACA must accomplish "three vital goals" which will be explained in a bill to be submitted to Congress in three days.
President Trump rescinded the program back in September, giving Congress six months to come up with a legal solution to help the over 800,000 illegal immigrants or "Dreamers" enrolled to avoid deportation. 
The deadline to replace DACA is March 5.
Trump sounded optimistic, saying that he believes Democrats and Republicans can put "put country over party" and "do want to get something done in good faith."
Democrats have threatened a government shutdown if there is no deal to protect "Dreamers" in the spending bill in February. 
President Trump made it clear on Twitter Friday morning that there will be no deal without a border wall and reforms to the U.S. immigration system.
"The Democrats have been told, and fully understand, that there can be no DACA without the desperately needed WALL at the Southern Border and an END to the horrible Chain Migration & ridiculous Lottery System of Immigration etc. We must protect our Country at all cost!" Trump tweeted.
Republican and Democratic congressional leaders will meet at the White House on Wednesday to hash out a deal to avert a government shutdown.  
Thank you for supporting MRCTV! As a tax-deductible, charitable organization, we rely on the support of our readers to keep us running! Keep MRCTV going with your gift here!