President Trump Monday night unveiled his second nominee to the Supreme Court.  
Trump nominated District of Columbia Court of Appeals judge Brett Kavanaugh to replace retiring Justice Anthony Kennedy on the bench. Kavanaugh served as a law clerk for Justice Kennedy, worked as White House counsel and staff secretary for President George W. Bush, is an active member in the Catholic community, and teaches constitutional law.
"A judge must interpret law statutes as written. A judge must interpret the Constitution as written," he said during his acceptance speech.
Liberals weren't listening.
Regardless of Kavanaugh's own words or qualifications, Democrats and the liberal media lost their minds over his nomination and proceeded with their fear-mongering tactics.
Fears ranged from Roe v. Wade being reversed to women losing all of their rights to everyone losing their healthcare to gun rights being expanded to the world ending.
Senate Majority Leader Chuck Schumer (D-N.Y.) kicked things off with the following tweets: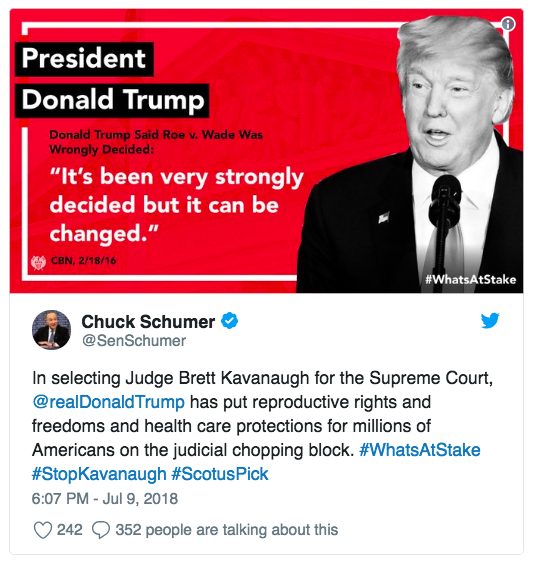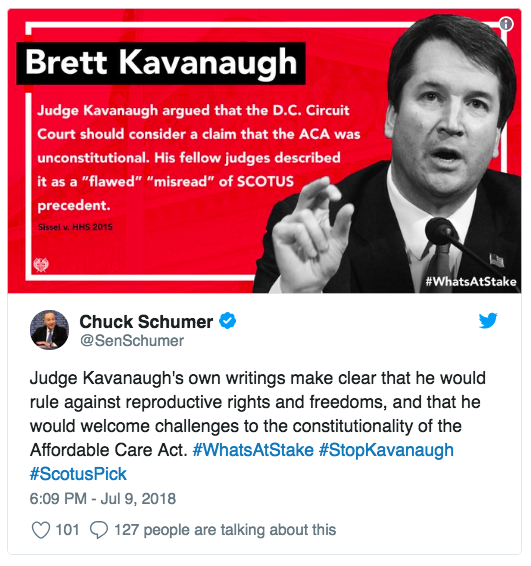 House Minority Leader Nancy Pelosi soon followed, calling the nomination "a clear and disrespectful assault on the fundamental rights of women and on the quality, affordable health care of the American people"
She accused Trump of carrying out a "bitter campaign to overturn Roe v. Wade and sabotage Americans' health care," adding that there awaits "grave peril." 
Several Democrats tweeted that they would oppose Kavanaugh's nomination, including Sen. Bob Casey (D-Penn.) who said before the pick was even announced that he would oppose whomever Trump picked, regardless.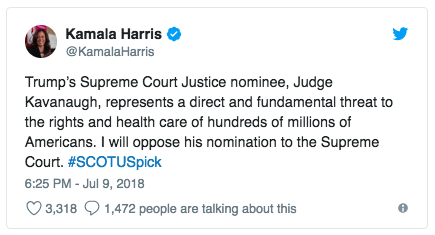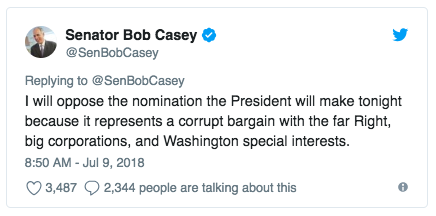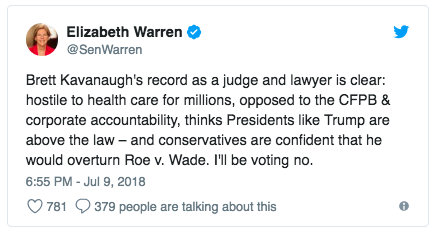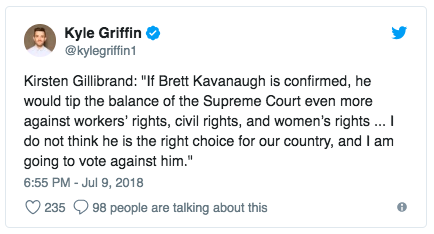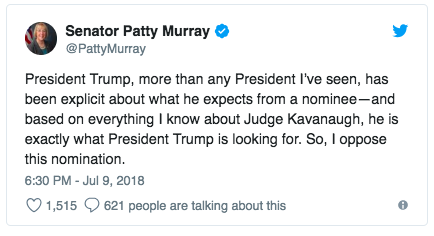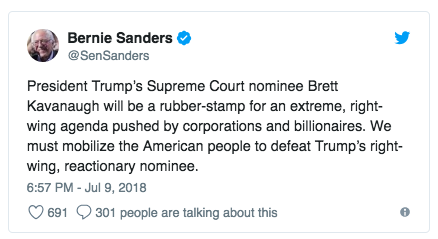 Sen. Cory Booker (D-N.J.) said on "The Rachel Maddow Show" that Supreme Court nominee Kavanaugh is the most "self-serving" selection that the President could have made to protect himself from a criminal investigation based on a 2009 statement where Kavanaugh wrote that the indictment of a President "would cripple the federal government."
Others took to Twitter in agreement, even though Trump has not been charged with any crime for which that would be appropriate.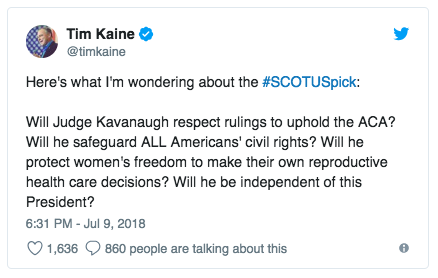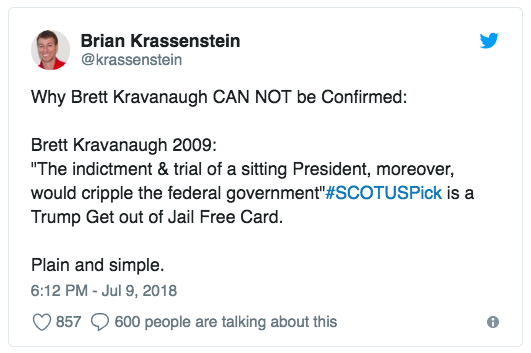 Celebrities such as Cynthia Nixon expressed outrage at the decision. Nixon said that it's more important now than ever "to fight back and enshrine abortion."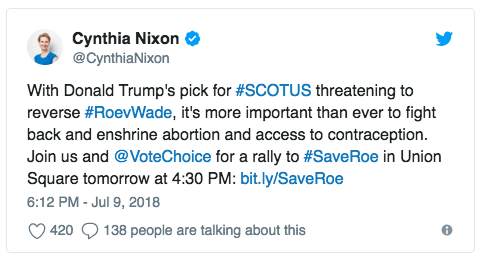 Rosie O'Donnell simply posted this flattering painting of Trump.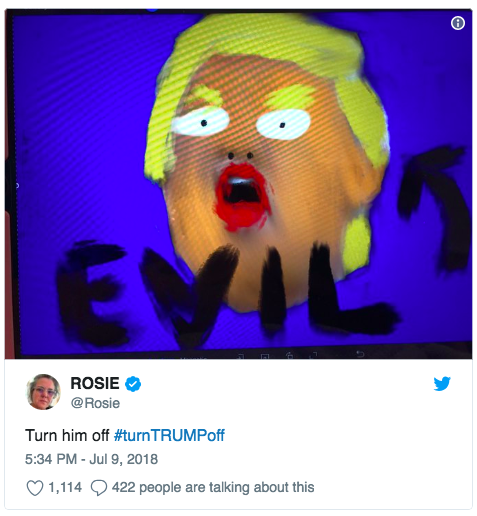 Pro-choice and LGBT activist groups went so far as to call Kavanaugh "anti-equality" and an "anti-choice extremist."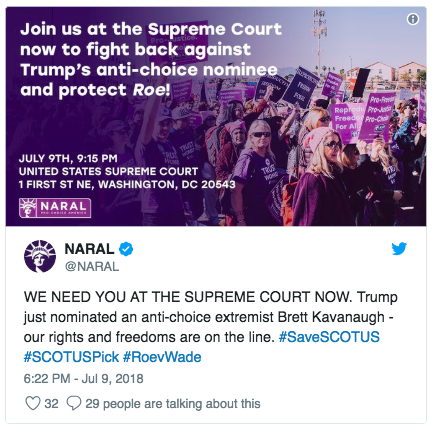 Of course Planned Parenthood's Cecile Richards had to chime in: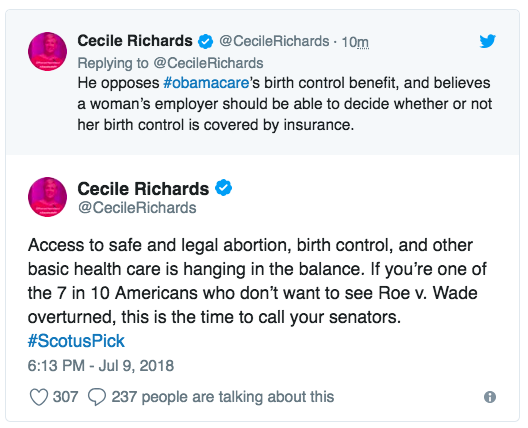 The Sierra Club basically called him anti-environment.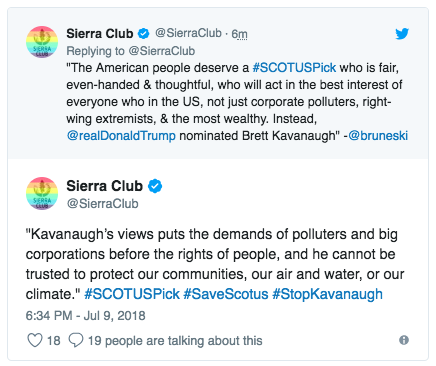 And Jimmy Kimmel aired a segment that had Kavanaugh introduced as Lord Voldemort from Harry Potter.
The list goes on. 
There is currently a massive protest outside the Supreme Court as well as a protest at Trump Tower in New York City.
Coverage on CNN and MSNBC are painting the nomination as apocalyptic.
The Left will surely continue to attack Judge Kavanaugh and slander his character, regardless of his track record.
Trump's second Supreme Court pick will create a 5-4 majority on the court for conservatives, giving way to liberal fear of losing ground on issues such as abortion and gun control.  
His first Supreme Court nominee, Neil Gorsuch, has been considered one of his best accomplishments as President.
Democrats have little to no options to block Kavanaugh's confirmation by Senate Republicans, though they will surely try.