President Trump on Friday announced that the Department of Justice would be issuing a rule effectively banning the sale of bump stocks.
He noted that the rulemaking process mandates a comment period, meaning that the public is allowed to submit comments to the department regarding the proposed policy.
"We will BAN all devices that turn legal weapons into illegal machine guns," he wrote in a tweet.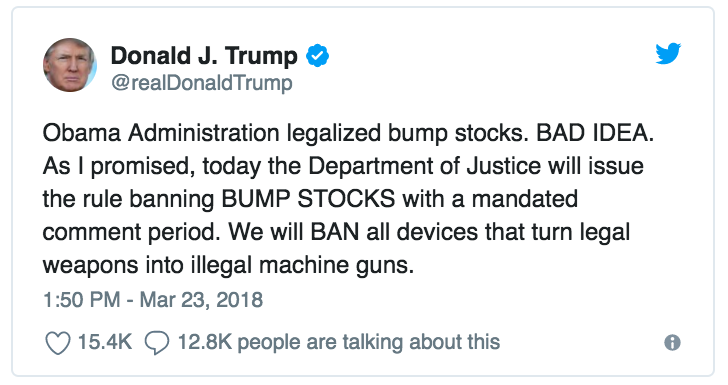 The Justice Department issued a statement on Friday giving notice of the proposed regulation, explaining that the decision is being made based on the reasoning that "bump stocks fall within the definition of 'machinegun' under federal law, as such devices allow a shooter of a semiautomatic firearm to initiate a continuous firing cycle with a single pull of the trigger."
"Since the day he took office, President Trump has had no higher priority than the safety of each and every American," said Attorney General Jeff Sessions in the statement. "That is why today the Department of Justice is publishing for public comment a proposed rulemaking that would define 'machinegun' to include bump stock-type devices under federal law—effectively banning them. After the senseless attack in Las Vegas, this proposed rule is a critical step in our effort to reduce the threat of gun violence that is in keeping with the Constitution and the laws passed by Congress. I look forward to working with the President's School Safety Commission to identify other ways to keep our country and our children safe, and I thank the President for his courageous leadership on this issue."
According to the official Notice of Proposed Rulemaking, the public has 90 days to submit their comments on the issue.  
If the notice is implemented, the sale of any "bump-stock-type devices" would be prohibited. Anyone who owns bump stocks must "surrender them, destroy them, or otherwise render them permanently inoperable upon the effective date of the rule," the notice states. 
The latter part of the rule leaves a gray area whether a person must actually turn in purchased bump stocks, so long as he or she keeps them locked away and refrains from using them.
(Cover Photo: Wikimedia Commons)
Thank you for supporting MRCTV! As a tax-deductible, charitable organization, we rely on the support of our readers to keep us running! Keep MRCTV going with your gift here!