Despite being impeached by House Democrats on Wednesday night, President Donald Trump's campaign reportedly raised over $5 million dollars towards his re-election efforts.
Trump 2020 Campaign Manager Brad Parscale tweeted late Wednesday that they had raised "over 5M dollars (still growing) as Americans use their wallets to show support against @SpeakerPelosi's impeachment hoax!"
Here's the tweet: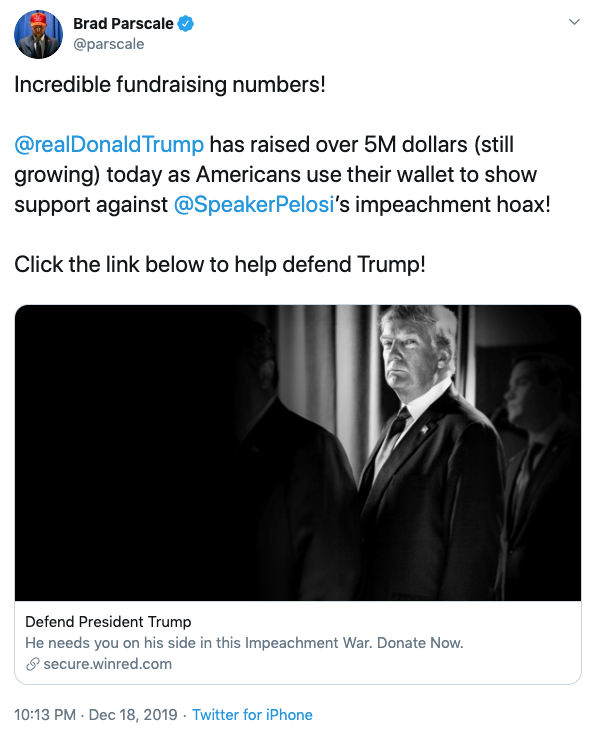 The announcement came around the same time that the Republican National Committee (RNC) made an announcement of their own.
Fox News reported that the RNC had a record-breaking fundraising month in November, raising an astounding $20.6 million. Those numbers were reportedly according to Federal Election Commission (FEC) data "obtained by Fox News."
RNC Chairwoman Ronna McDaniel told Fox News that impeachment is a big reason the RNC has done so well recently.
"Democrats' baseless impeachment charade has only served to bolster our base and attract more voters to our cause and the result is another record-breaking fundraising month," McDaniel said. "President Trump's policies made historic progress this month as well, with USMCA clearing another legislative hurdle, paid-family leave secured for federal employees, and 266,000 jobs added to the economy — all while Nancy Pelosi's impeachment sham droned on."
In comparison, the Associated Press (AP) reported that Democratic presidential candidate and former vice president Joe Biden's campaign raised $15.2 million in July, August and September combined.
Biden will have a chance to appeal to voters Thursday evening during the sixth Democratic debate, co-hosted by PBS NewsHour and Politico. There will only be six candidates on the stage, which begins at 8 p.m. EST.
MRCTV will be covering the debate live, so stay tuned!
H/T: Daily Caller