Update (8:58 am, 11/1): According to Fox News:
The man accused of plowing into New York pedestrians Tuesday had a printout of an ISIS flag in his car and left behind handwritten notes pledging his loyalty to the Islamic State, as a clearer picture emerged Wednesday morning of Sayfullo Saipov's alleged links to the terror group.

Saipov, 29, is originally from Uzbekistan and is not a U.S. citizen, federal law enforcement sources have confirmed to Fox News.
Update (5:33 pm, 10/31): According to the Washington Post:
New York City Mayor Bill de Blasio said that the vehicle attack in Lower Manhattan was 'an act of terror,' with at least eight dead and 12 injured.
Update (4:54 pm, 10/31): 
Fox News is reporting that driver of the truck yelled out "Allahu Akbar" during attack.
Update (4:48 pm, 10/31): According to Fox News:
Police in New York City say "several" people are dead and "numerous" people injured after a vehicle drove onto a bike path near the World Trade Center in Lower Manhattan Tuesday afternoon.
Original Story (3:30 pm, 10/31): There have been reports of shots being fired blocks from the National September 11 Memorial in lower Manhattan.
According to NBC 4 - New York:
At least five people have been shot on the street in lower Manhattan, a few blocks north of the National September 11 Memorial, police sources tell News 4. 

A large number of police vehicles could be seen near West Street and Chambers Street, which is near a community college, Stuyvesant High School, and a few blocks north of the National Sept. 11 Memorial.
Pictures and video have been streaming in from Twitter (WARNING: Some content may be graphic):
#Breaking #NewYork #Manhattan
At least 4 dead and 8 injured after a shooting and a ramming attack in Manhattan. Video from the scene. pic.twitter.com/yhvItsYmTY

— Mr. Revinsky (@MrKyruer) October 31, 2017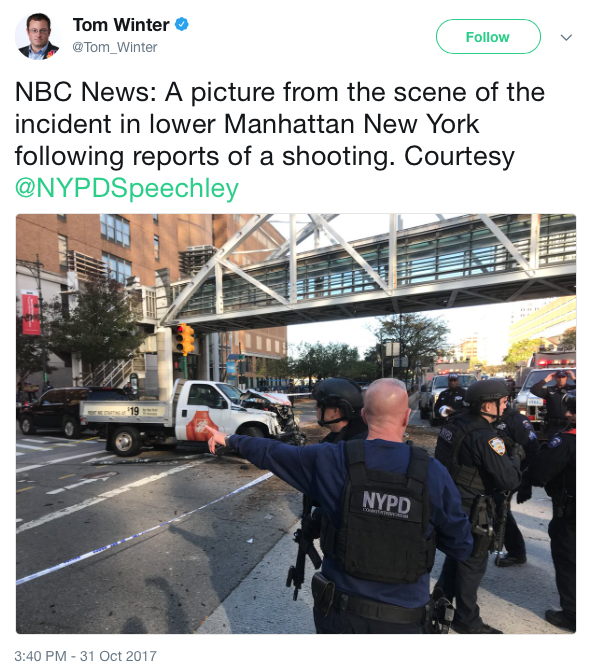 The New York Police Department (NYPD) tweeted on the incident: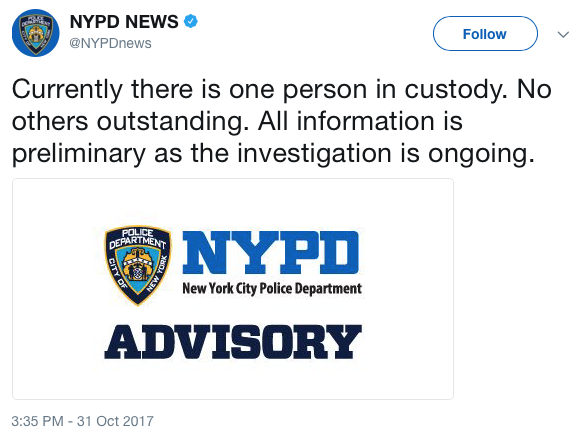 This is a developing situation. Stay tuned to MRCTV for updates.