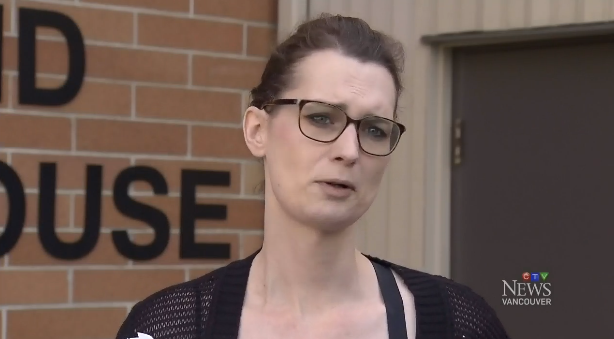 A transsexual student at the University of British Columbiais being charged with "mischief" for burning a gay pride flag in protest of political correctness and transgender identity politics.
CBC News reports Brooklyn Marie Fink is being charged with "mischief under $5,000" for burning a gay pride flag during UBC Pride Collective's OUTweek in February. The event is billed as "a celebration of gender and sexual diversity."
The incident was first considered a potential hate crime. In a statement condemning the incident, UBC wrote, "UBC condemns this incident as an act of hate and in contravention of the values of equity, inclusion and respect deeply held by the university community."
During her court hearing, Fink tried to have the mischief charge dismissed. Fink said the incident should be handled by the university rather than the criminal justice system.
In a statement to the gay news site the Daily Xtra, Fink said the incident happened after a professor referred to her by the gender-neutral pronoun "they," a "preferred pronoun" by many who consider themselves transgender, non-binary, or genderqueer.
Fink said she felt like that was a case of discrimination against transsexuals in favor of transgender politics. Fink allegedly told the Daily Extra political correctness has gone too far.
The Daily Xtra notes Fink "objects to the term 'transgender,' which she considers so overly broad as to be meaningless. As a result, she says, 'transsexual patients get lumped in with transgender politics.'"
Fink said she wants the lesbian, gay, and transgender community to "stop assuming I'm in on their political movement," adding that "LGBT politics have ruined my life."
On putting the gay pride flag up, Fink said, "The university surrendered our flag to the gay power flag."
While speaking to CTV News, Fink said, "It's just really tragic that we're still fighting about identity politics."
"As a media artist, I intended on burning the flag only to illustrate my displeasure at the university's failure to come to an agreement on the fact of the flag's offensiveness," she said. "And we take that [UB] flag down and we put up a false flag that was jus invented by somebody from San Francisco. And what are we going to do? Surrender the flag 52 times a year? Who's next? Campus Pro-Life? Do they get to fly a flag?"
The UBC Pride Collective OUTWeek organizers maintain the gay pride flag is a "symbol of pride, hope, and diversity for LGBT*TQIA+ communities since the 1970s."
Fink was reportedly suspended from UBC over the incident. Her next court appearance is scheduled for May 17.