Another day, another moron heard from concerning the Second Amendment and whether or not it should even exist.
In the wake of the fossil brigade — a.k.a., former Supreme Court Justice John Paul Stevens and talk show host Larry King — coming out in support of repealing the Second Amendment, a person of actual influence within the Democratic Party has joined the chorus of stupidity.
Louisiana State Sen. Karen Carter Peterson (D) thought it would be a good idea to tweet Stevens' New York Times op-ed where the former judge called for a repeal of the Second Amendment and repeat that sentiment herself.
Here's the tweet: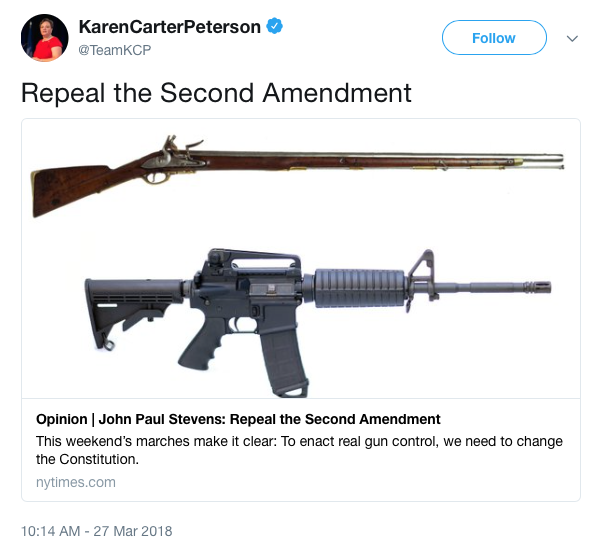 Peterson — who is also the chair of the Louisiana Democratic Party AND the Democratic National Committee (DNC)'s vice chairwoman of Civic Engagement and Voter Participation — doesn't understand that a repeal of the Second Amendment means a future assault on all other amendments, particularly the First.
The Twitterverse — at least those with a modicum of common sense in their melons — didn't let Peterson slide by with her insane declaration.
Here's some of the response: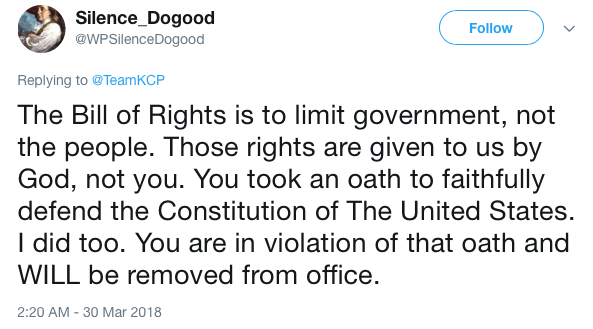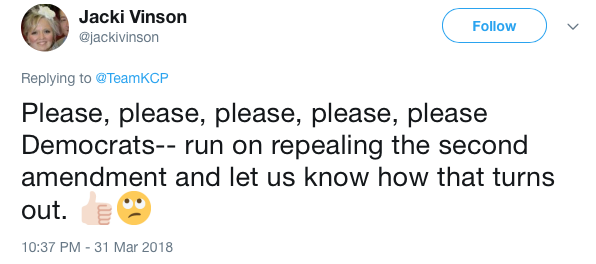 As you can clearly see, the "Repeal the Second Amendment" stance hasn't been going over too well with everyday Americans. These anti-American, Leftist politicians should keep talking like this, because they only further reveal who they really are to the masses.
H/T: Daily Wire