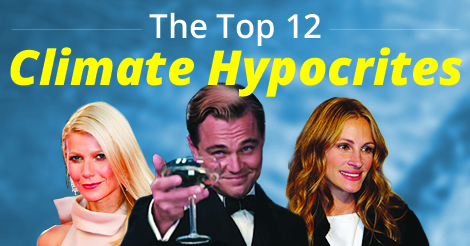 Celebrities hate being called out for their hypocrisy. 
In observance of this, we looked at 12 celebrities who are so disconnected from reality that they can't see the hypocrisy in sitting in their big houses while condemning middle class Americans for driving too much, or for not switching their entire lifestyles to eco-friendly. These celebrities are worth a combined total of $1.9 billion, according to Celebrity Net Worth.
We've also rated each celebrity on a scale of one to five, with five being the most hypocritical. These are the worst climate hypocrites: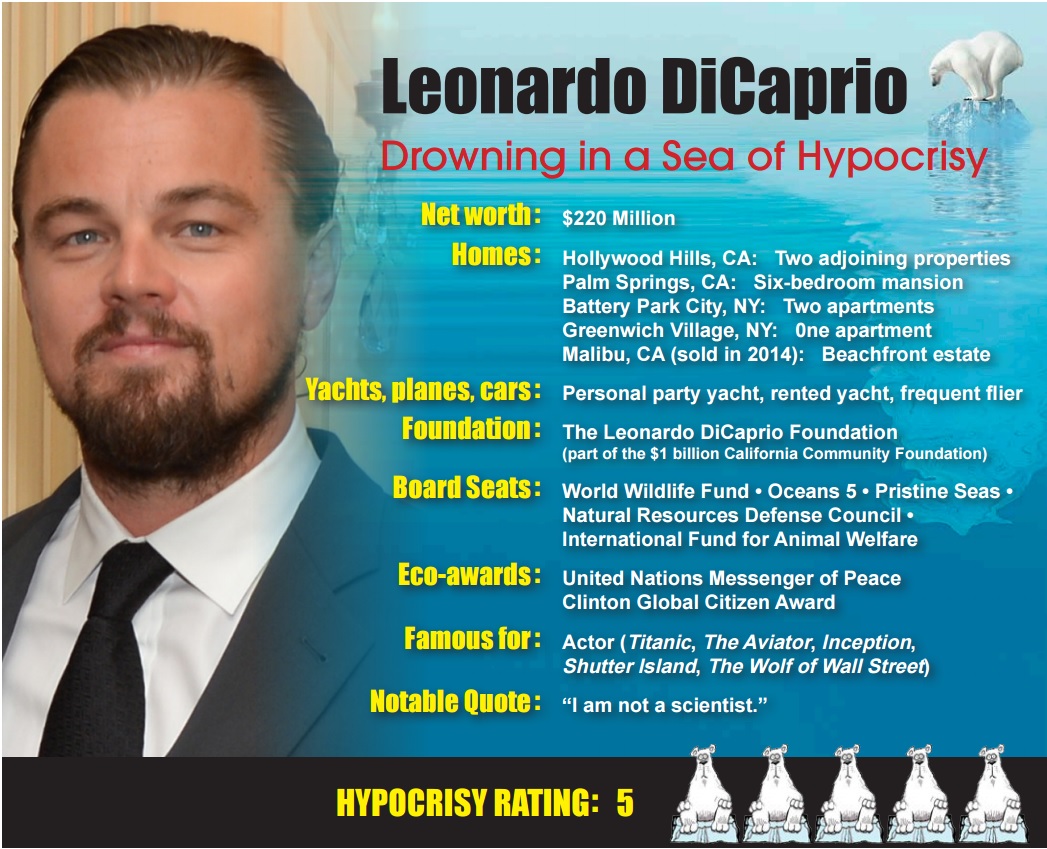 When Leonardo DiCaprio isn't blaming conservatives for destroying the planet, he's cruising in his private yacht, or flying among the four houses he owns on both coasts. DiCaprio seems to think that his own air travel doesn't affect the environment the way he claims it does for other people, even telling the German newspaper Bild that he planned to "fly around the world doing good for the environment."
Report Author: Mike Ciandella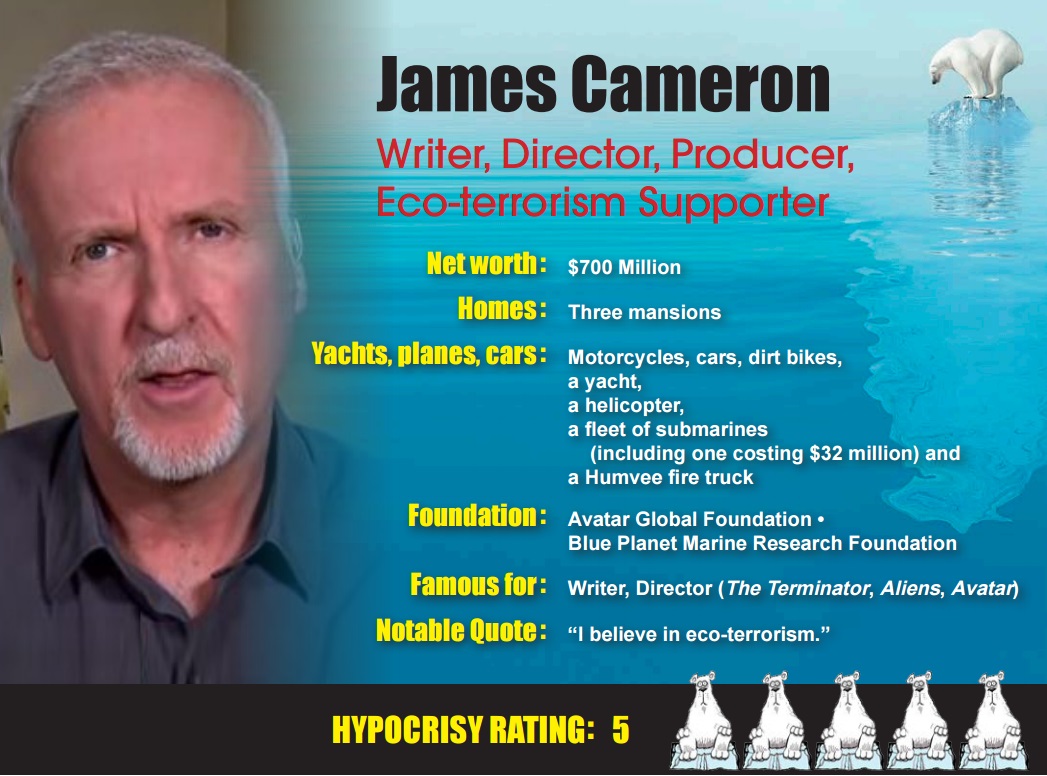 Starring in the nine-part alarmist Showtime documentary "Years of Living Dangerously," Cameron warned future generations were going to be left with a "world that's in shambles" because of climate change. Yet, the director owns a collection of motorcycles, cars, dirt bikes, a yacht, a helicopter, a fleet of submarines and a Humvee fire truck.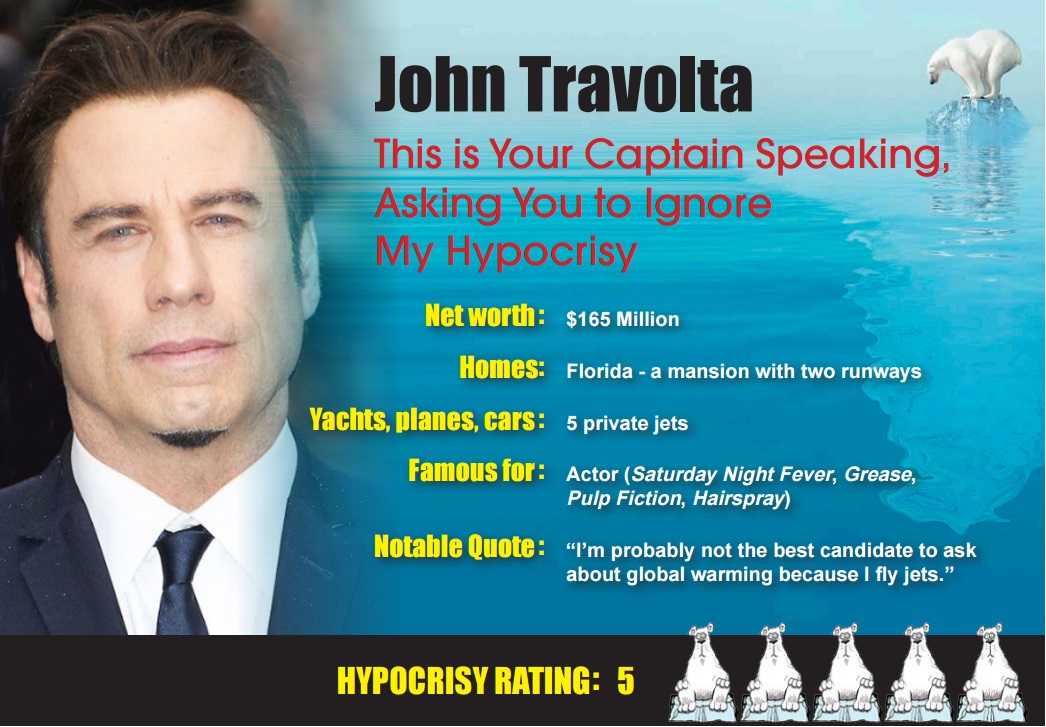 According to the London Evening Standard (UK), despite telling British fans to "'do their bit' to tackle global warming," Travolta has been "clocking up at least 30,000 flying miles in the past 12 months means he has produced an estimated 800 tons of carbon emissions – nearly 100 times the average Briton's tally."
Travolta's solution to climate change? "I'm wondering if we need to think about other planets and dome cities."
He added that "[e]veryone can do their bit. But I don't know if it's not too late already. We have to think about alternative methods of fuel."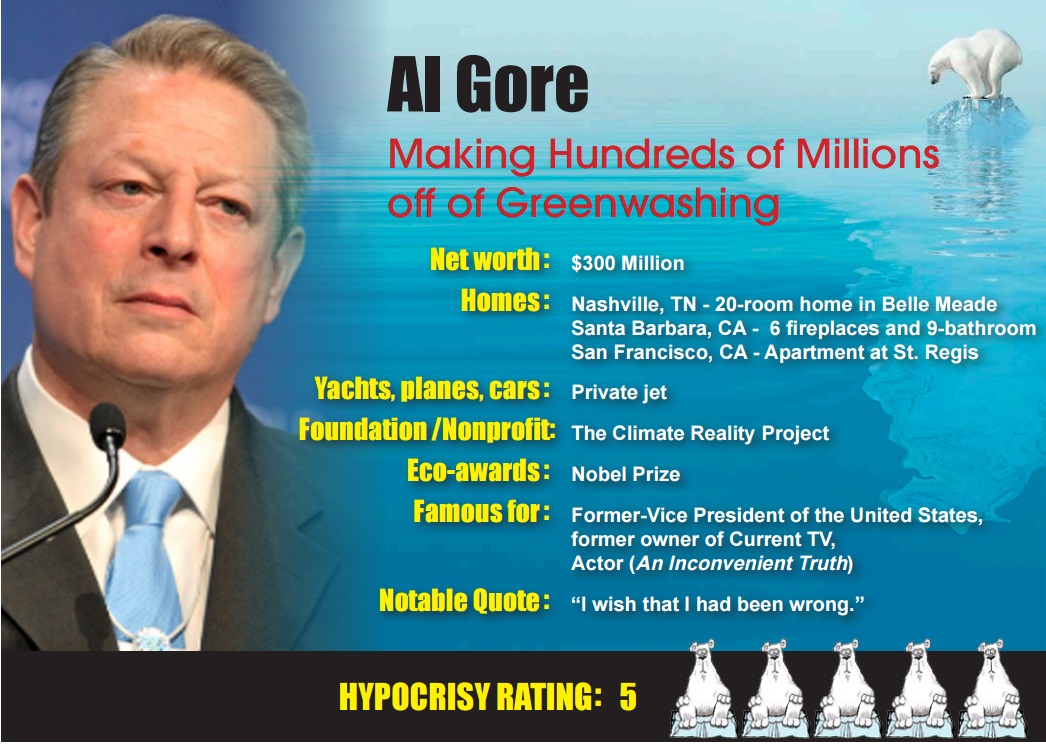 Where to begin with Al Gore? In 2007, the Tennessee Center for Policy Research (now the Beacon Center of Tennessee) found that Gore's "20-room home and pool house devoured nearly 221,000 kilowatt-hours in 2006, more than 20 times the national average," according to an ABC News online story.
Despite also briefly mentioning this in a newscast, ABC joined the other networks in praising Gore. In 2014 alone, there were five non-interview instances in which the networks praised Gore for being a "climate activist."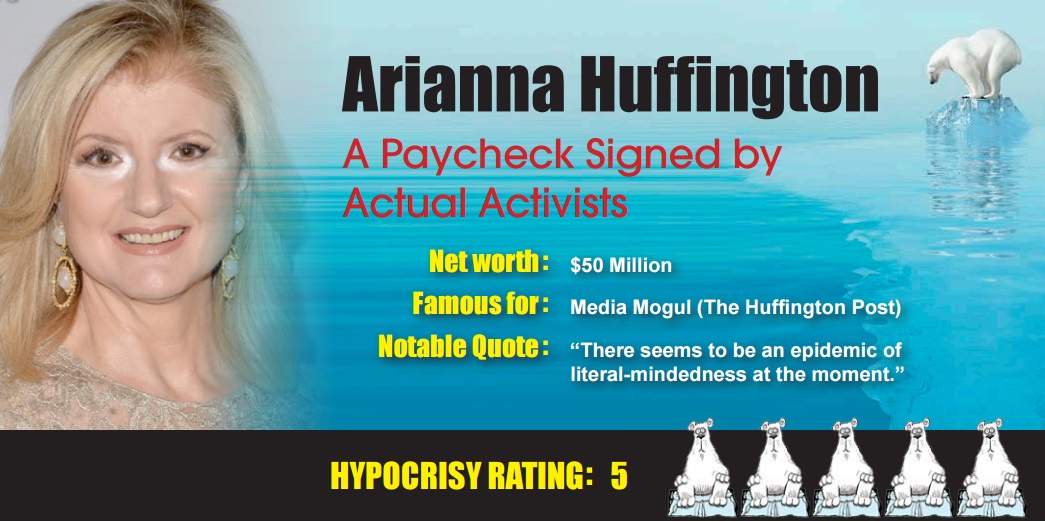 Media mogul Arianna Huffington has committed an entire section of her Huffington Post website to environmentalism and climate change alarmism, yet she herself flies in a private jet.
According to Huffington, though, it's not her jet that endangers the climate — it's soccer moms and their SUVs. In 2003, she condemned SUV owners for "supporting terrorists," in a series of television commercials. But when she was asked to clarify that comment by the liberal (and Soros-funded) outlet Mother Jones, she complained that "[t]here seems to be an epidemic of literal-mindedness at the moment."
She claimed she was just creating satire. Not surprisingly, Mother Jones accepted this explanation, and fully endorsed Huffington's campaign, dubbed the "Detroit Project."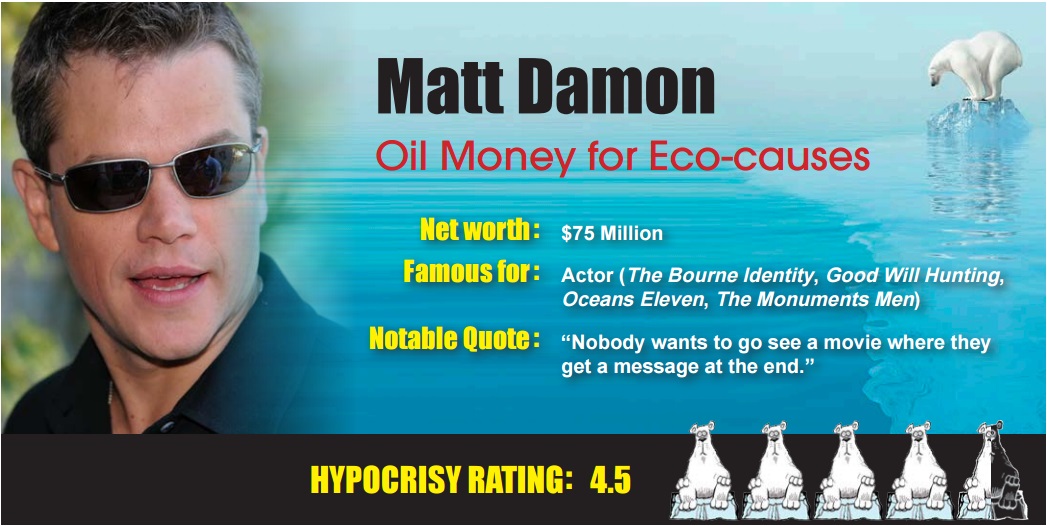 Jason Bourne might have his memories back, but Matt Damon can't seem to remember how to follow his own advice on climate change.
Damon's 2012 movie "Promised Land," which attempted to villainize the natural gas industry, was produced "in association with" Image Media Abu Dhabi, a company owned wholly by the government of the United Arab Emirates (UAE).
According to the CIA World Factbook, UAE exported $166 billion of crude oil in 2013. The UAE is also a member of the Organization of the Petroleum Exporting Countries (OPEC). Oil producing nations have been very concerned by U.S. fracking for financial (not environmental) reasons.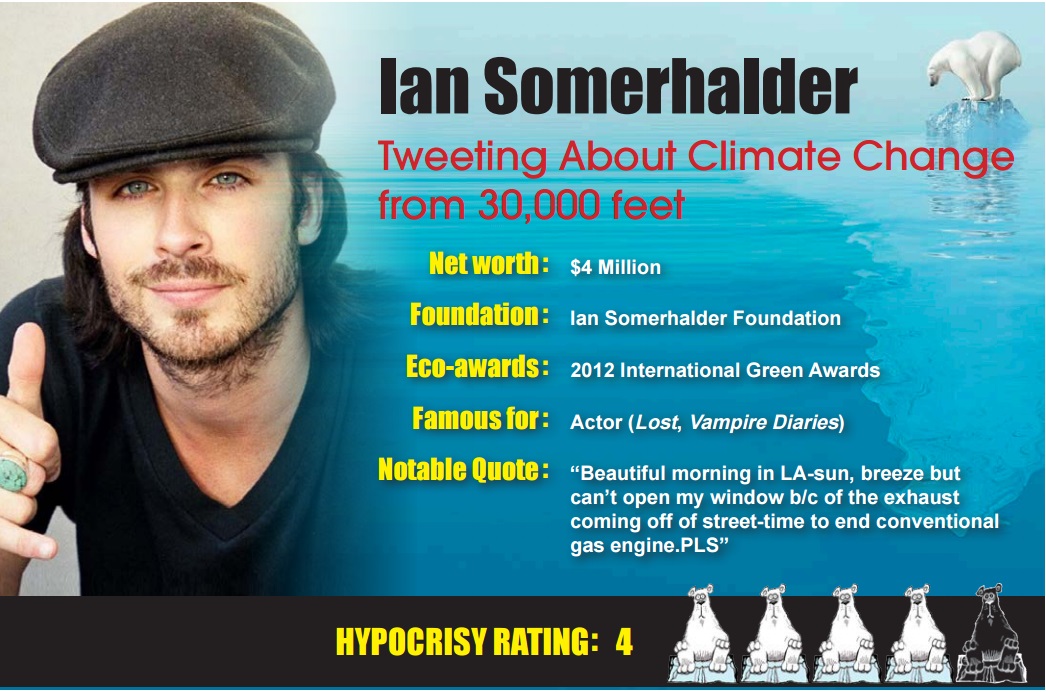 Even among celebrities, there are few people more blatantly out of touch than Ian Somerhalder. The Lost and Vampire Diaries actor has tweeted from an airplane about the evils of taxi pollution. He's also wished that people would stop driving cars – not because it would hurt the environment, but because it made him not want to open the windows in his apartment.
Somerhalder is also a prime example of a celebrity who puts up a facade of doing charitable work. The Ian Somerhalder Foundation, with its website full of pictures of the actor posing with animals, took in $522,384 in 2013, but only gave out $550 in donations. That's close to 1/1000th of the money it received for environmental causes.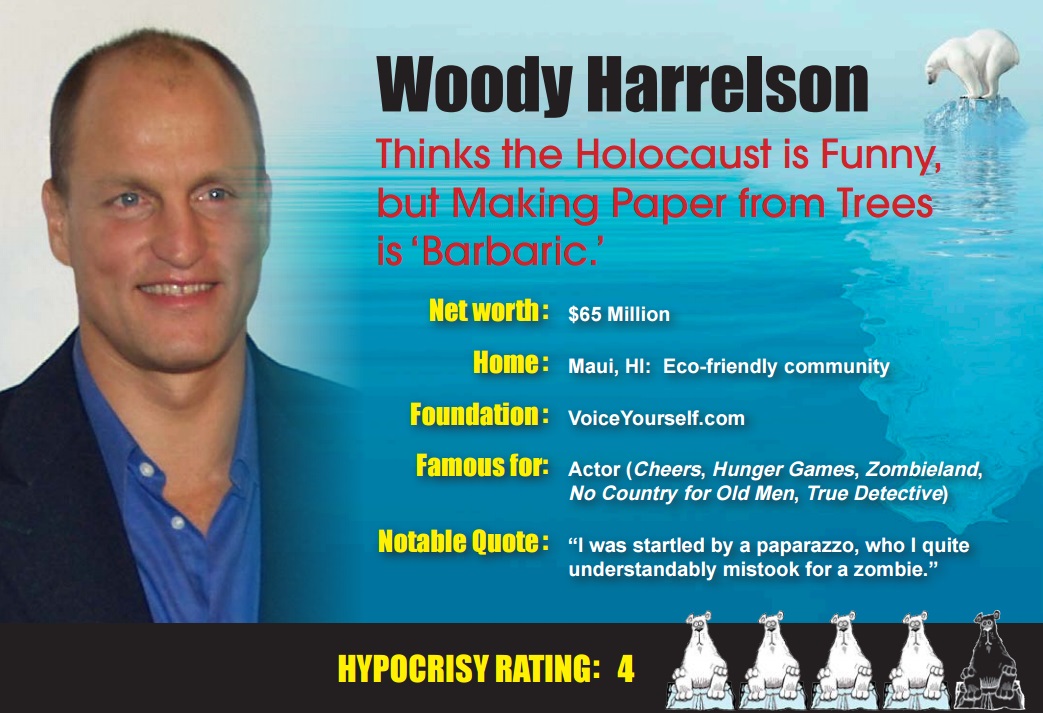 Woody Harrelson walks the walk more than most of the celebrities in this report, but only when he wants to. At the Cannes Film Festival in 2008, Harrelson realized that he had left his vegan belt and shoes behind, so he had them flown to France from California. Despite living in an "off-grid, eco-village community," Harrelson's home on Hawaii requires him to fly to the mainland several times a year for work and climate activism events.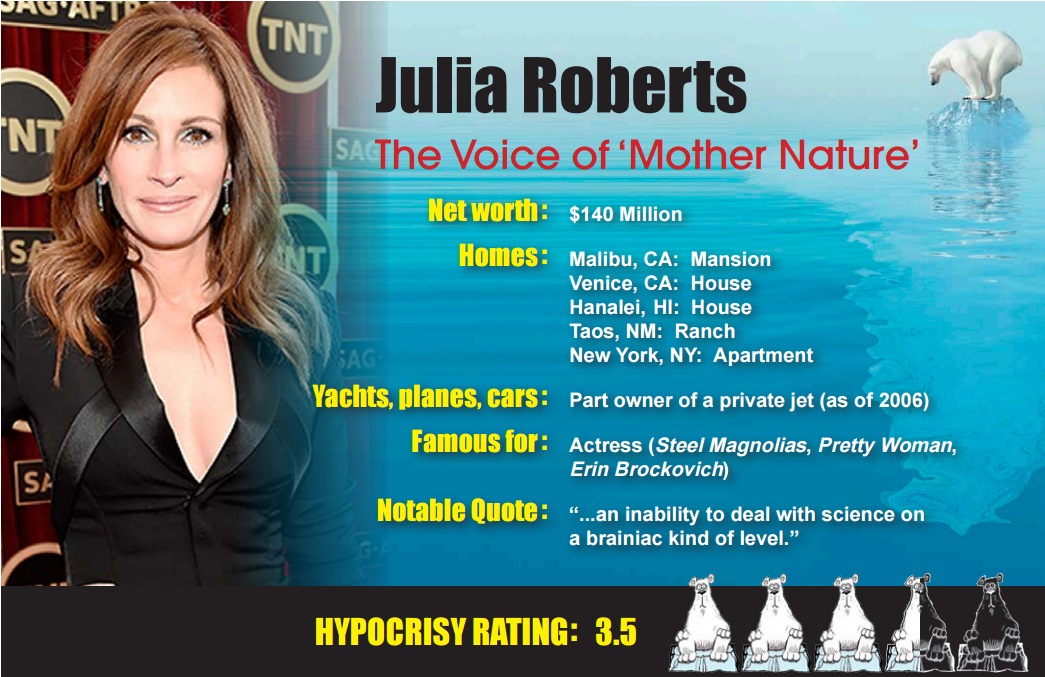 In a new PSA for Conservation International, Roberts declared that nature has "fed species greater" than humans and has "starved species greater" than humans.
"Some call me nature. Others call me 'Mother Nature'," Roberts narrated ominously. "I've been here for over four and a half billion years -- 22,500 times longer than you. I don't really need people, but people need me. Yes, your future depends on me. When I thrive, you thrive. When I falter, you falter. Or worse. But I've been here for eons. I have fed species greater than you, and I have starved species greater than you. My oceans. My soil. My flowing streams. My forests. They all can take you or leave you. How you choose to live each day, whether you regard or disregard me, doesn't really matter to me. One way, or the other. Your actions will determine your fate, not mine. I am nature. I will go on. I am prepared to evolve. Are you?"
But Roberts owned at least part of a private jet through "pioneering fractional ownership company NetJets," according to NBC News in 2006. Roberts has also been spotted boarding private jets with her family as recently as December 2013.
Gwyneth Paltrow teamed up with fellow actress Cameron Diaz to encourage Americans to switch to compact fluorescent light bulbs and hybrid cars in order to combat global warming. This team effort was part of a PSA from the Environmental Media Association. To show solidarity, the actresses added that they turn off their lights when they leave their bedrooms, and turn their thermostats "down to 65 degrees and wear a sweater" to conserve energy. 
Paltrow and her ex-husband, Coldplay frontman Chris Martin, were criticized for insisting on being driven .06 miles between two celebrity get-togethers in 2012. Other celebrities, including Orlando Bloom, Miranda Kerr, Jane Fonda and Amy Smart, had no problem walking between the two events.
Despite stunts like this, Paltrow was ninth most influential climate change celebrity in 2011, according to The Guardian. Time magazine also listed her as one of "The 30 Most Influential People on the Internet."
Paltrow's London, England house with Martin lost 1,020 kWh of heat a year through poor insulation, according to a report by the British news outlet Building.co.uk, which used a thermal imaging camera to calculate energy loss. The couple also bought a $14 million Malibu estate.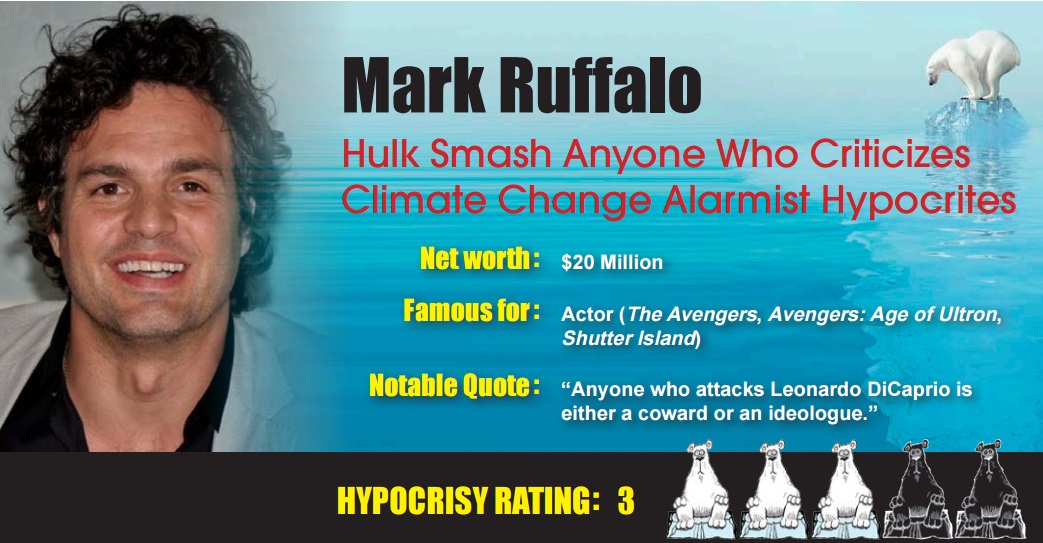 When Climate Depot asked Mark Ruffalo at the 2014 People's Climate March if people like Gore and DiCaprio are really the best spokespeople to "fight global warming" since they have huge "carbon footprints," the actor was nothing short of dismissive.
"Oh brother," Ruffalo responded. "That is a question you shouldn't be asking here today because that defies the spirit of what this is about."
He added that "[a]nyone who attacks Leonardo DiCaprio is either a coward or an ideologue." Apparently there is no room for thinking poorly of DiCaprio's habits of flying around the world to attend multiple parties in the same night, or borrowing the yacht of a Middle East oil billionaire -- twice.
Climate isn't the only area where Ruffalo is a hypocrite. Despite joining the Occupy Wall Street protesters to rant against wealth and the financial industry, Ruffalo himself is worth $20 million.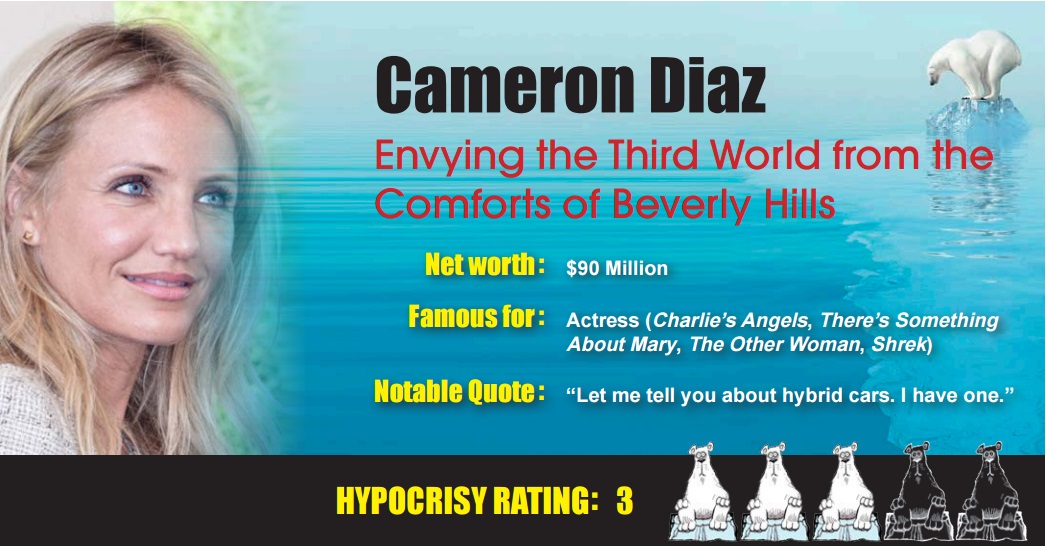 As part of her faux-eco campaign, Diaz joined other celebrities in 2008 to make the MTV series Trippin', which praised the planet's most primitive lifestyles as being earth-friendly despite their high infant mortality rates and short life expectancies.
The 32-year-old Diaz, who earns a reported $20 million a movie, boasted that the cow-dung slathered walls of a Nepalese village hut were "beautiful" and "inspiring," and she called the primitive practice of "pounding mud" with sticks to construct a building foundation "the coolest thing."
"I am going to go pound some mud, baby! Mmm," Diaz said to the cameras, adding "It was the coolest thing to be a part of." This was probably easier to say since it wasn't necessary for her survival.
Despite the celebrities' praise for the primitive life, Trippin' showed them flying on multiple airplanes and chartering at least two helicopters and one boat to reach remote locations over the course of the first four episodes.
The series tried to explain the celebrities' use of pollution-generating planes and SUVs to get from one remote location to another by featuring a program note at the end of each show which stated: "To reduce global warming, Trippin' offset all of the energy used to make this show by supporting renewable energy products." 
So what do you think? Did we miss anyone? Download the whole report here (pdf).